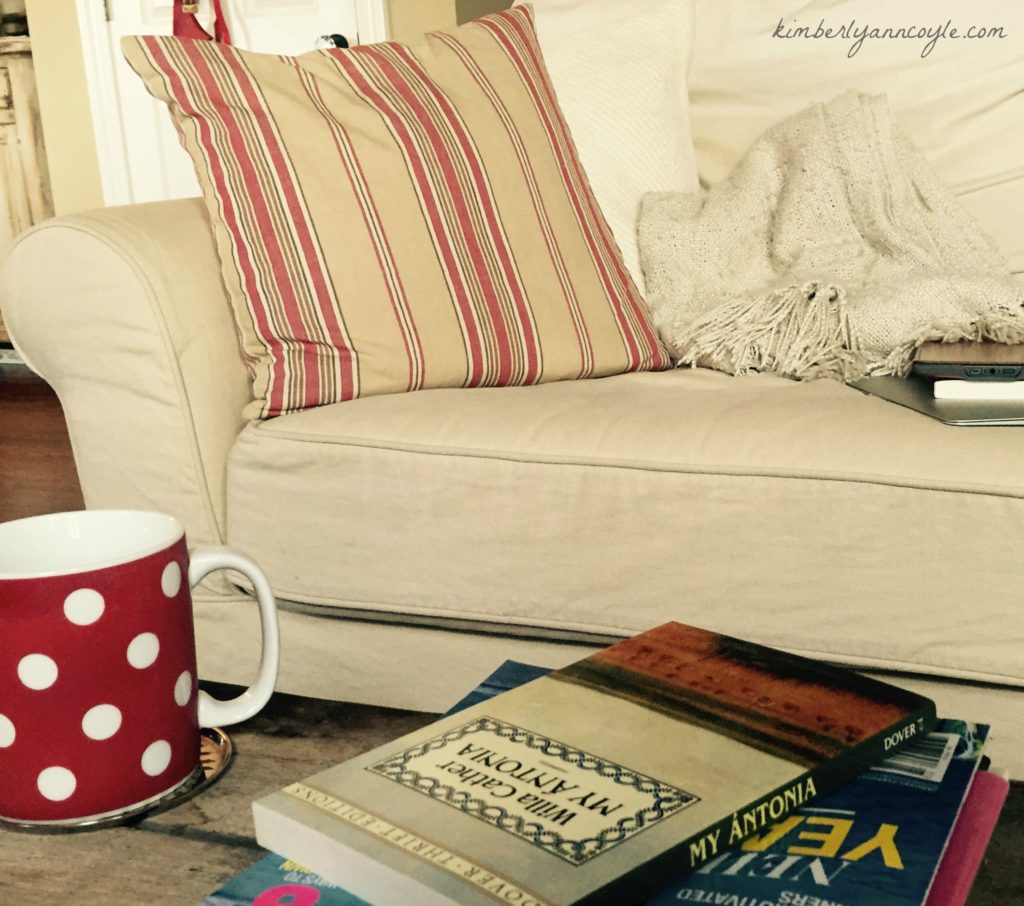 I have spent this week thinking deep, angsty thoughts and I need a break from myself. I want to walk around in someone else's head, and reading is my favorite way to step out of my own, if only for a little while.
Let's talk books. Let's talk about the ones we're reading now and what we're going to read next. I'll go first.
On my nightstand:
Unbroken by Laura Hillenbrand
Oh, I know I'm late to the party. I resisted reading this book for years, years I tell you. I don't generally read biographies, especially when the lead "character" is male. Men confuse me enough in real life, I don't need to invite them into my reading sanctuary. But when kindle put the book on super sale, I finally bought and read it. What a redemptive, heroic, unbelievable story! When I feel like parenting, keeping house, or my own neurosis will break me, I think of Louis Zamperini. Then I realize I know nothing of real brokenness when most of the problems in my life can be fixed with a can-do attitude and a donut.
The Quotidian Mysteries by Kathleen Norris
If you've read here for any length of time, you already know I'm the anti-Martha Stewart. I don't craft. I rarely bake. My attempts at cooking are mediocre at best. Laundry is my nemesis. God did not wire me to be a housewife or lifestyle guru or whatever we're calling it these days. However, the cooking and cleaning are a necessary part of life, especially because they make up almost the whole of my life. Norris encourages us to view these daily acts as a form of liturgy. They provide a rhythm by which we learn to worship. Routine and repetition feed the soul by reminding us of our daily need and the seasons of life. Short, beautifully written, and a balm to those of us who find the rituals of daily life more tedious than teachable.
The Secret Place by Tana French
This crime/detective novel about a murder at a private girl's school in the UK kept me up at night. I'm a sensitive reader, so I usually steer clear of anything too creepy. I had a hard time putting this one down, but it sat right on the edge in terms of creep factor. I didn't care for the supernatural elements to the story and I guessed the outcome early on, but it kept me reading to the very end. I was more interested in the friendships and changing dynamics between the girls as the story unfolded than I was in the crime element. Interesting, thought-provoking, slightly creepy read.
Honorable mention:
Anne of Green Gables by LM Montgomery. I like to throw in a classic or a children's classic every so often. I haven't read Anne since I was a child. A complete joy to read, or re-read, as it were.
Currently reading:
My Antonia by Willa Cather
I'm only a few pages in, but who wouldn't like a book with phrases like this, "…sunflower bordered roads always seem to me the roads to freedom." File this under: Classics I make myself read so I appear more intelligent. So far, I'm not sure this strategy is working. Ten years on a steady diet of People magazine will do that to a girl.
And because I still do a fair bit of reading online, I thought I'd share a few posts that burrowed deep down inside me and made a home there:
How to Mine Your 2015 for Unexpected Diamonds by Ann Voskamp
This post is literally changing the way I think about everything. Everything. I find it rising up to meet me at the oddest moments, asking me how I will spend my one spoonful of diamonds in this life. Other people have written about this very thing, but this is the first time I truly heard it. A must read.
Burn the Candles by Shauna Niequist
I read all of Shauna's work, heck, I'd read her to-do list if she published it. It would probably say something like "Be awesome", and she would always tick the box. This post is such a lovely reminder to live life to the full, and to believe you're worth using the good stuff.
That Time I Rejected the Word God Chose for Me by Michelle DeRusha
So funny. So vulnerable. So true. I already love Michelle, but this made me love her all that much more. Her journey in and out of the pit of writing despair gives me hope for my journey too.
………………
What are you reading? Leave me some links or suggestions in the comments or join me on my Facebook page.