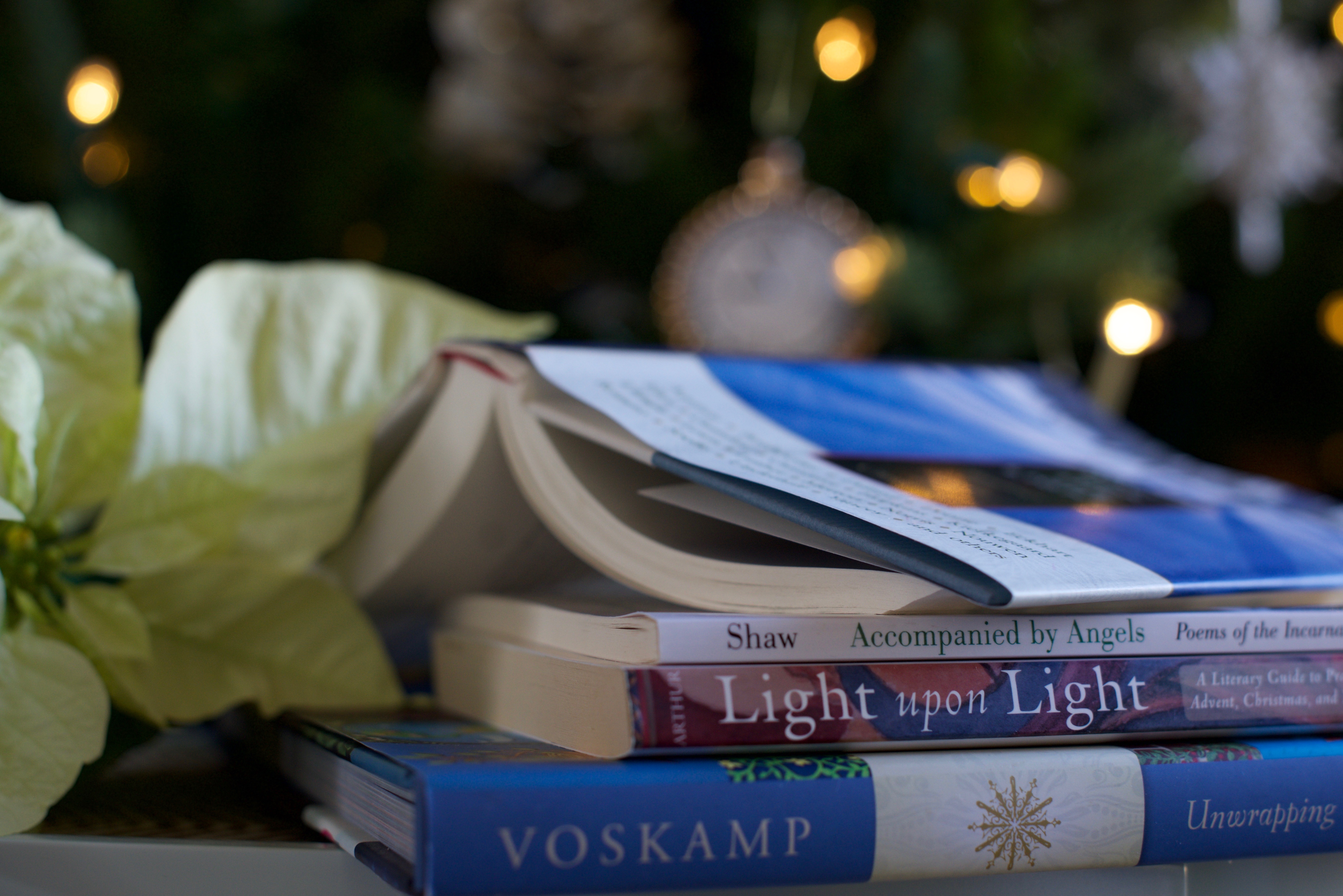 Many of you arrived here by signing up for my Advent audio guide, Journeying to Bethlehem Together, and for that I'm grateful. It's a joy to have you here as we hold longing together.
I still consider myself a newbie when it comes to observing Advent, and if not a total newbie, at the very least I'm a lazy observer. I like to keep it as simple as possible. None of us need more expectations during a time of year already fraught with unruly lists, disappearing money, and social obligations.
In order to help you observe Advent the lazy way alongside me, I thought I'd offer a few resources. May I make a suggestion? Choose one thing off this list, just one, that might lead you closer to Jesus this season.
Books:
Light upon Light: A Literary Guide
Compiled by writer Sarah Arthur, this collection of prayers, poetry, readings, and scripture is the perfect companion for the season. I've used it for a number of years, and it is by far my favorite resource.
Accompanied by Angels: Poems of the Incarnation
This slim volume of poems by Luci Shaw is a lovely way to begin or end the day. Her poetry is accessible and written with such care and precision. A great starter for those who don't typically read poetry.
Watch for the Light: Readings for Advent and Christmas
I bought this book recently, and I've enjoyed the perspectives from the numerous authors featured in this compilation (Aquinas, Bonhoeffer, Donne, Eliot, L'Engle, Lewis, etc.) It's dense, and often I re-read each entry to fully grasp the depth and richness of it, but don't let that deter you. I highly recommend it.
Unwrapping the Greatest Gift: A Family Celebration of Christmas
This gorgeous children's book by Ann Voskamp is a must if you have children. I use it with my kids every year, even though they've outgrown it  (and they would happily tell you so!), because I love the language and the structure of the stories. A must for families.
The Wonder of the Greatest Gift: An Interactive Family Celebration of Advent
This is Ann Voskamp's Unwrapping the Greatest Gift for littles. I bought it for all of my nieces and nephews this year, and they love it. It's a beautiful book with an Advent activity, and I could see it becoming an heirloom to pass down to the next generation.
Music:
At Christmas, I typically listen to classic holiday music on whatever radio channel I can find. However, this year, I wanted to be more intentional about my listening for Advent, and it's made a big difference in the tenor of my heart and home when I choose music that prepares my heart for Jesus rather than preparing me for a visit from Santa.
Melanie Penn's Immanuel is the perfect antidote to an overdose of Rudolph the Red Nose Reindeer. It's a gorgeous concept album, and her voice is angelic.
Songs for Christmas Time by Lowland Hum is a folksy-acoustic take on classic hymns and Christmas songs. I just discovered this album recently, and I think it would be great to choose a few songs from the album for a different kind of playlist.
Speaking of playlists, I love the playlists Tsh Oxenreider creates on Spotify. She has superb taste in music, and has compiled two separate lists specifically for Advent. Brilliant.
Other Resources:
Again, I'll refer you to Tsh Oxenreider. She offers a simple guide for advent with a number of suggestions for the season on her blog. I'm not sure I'm going to hand-roll my own beeswax candles, but most of her resources are incredibly do-able and simple.
Shelly Miller offers the loveliest (free) printable calendars all year long based on her (excellent) book Rhythms of Rest. December's calendar offers us exactly what we need: space to breathe and space to worship. I print mine and tape it to the pantry door. Every time I reach for a box of cereal, I read the prompt and it reminds me rest is a commandment. Even at Advent.
It's not too late to begin a simple practice of celebrating Advent. I hope you find something here that helps you move towards a spirit of anticipatory waiting rather than overwhelm and frustration. Happy reading, listening, and observing!