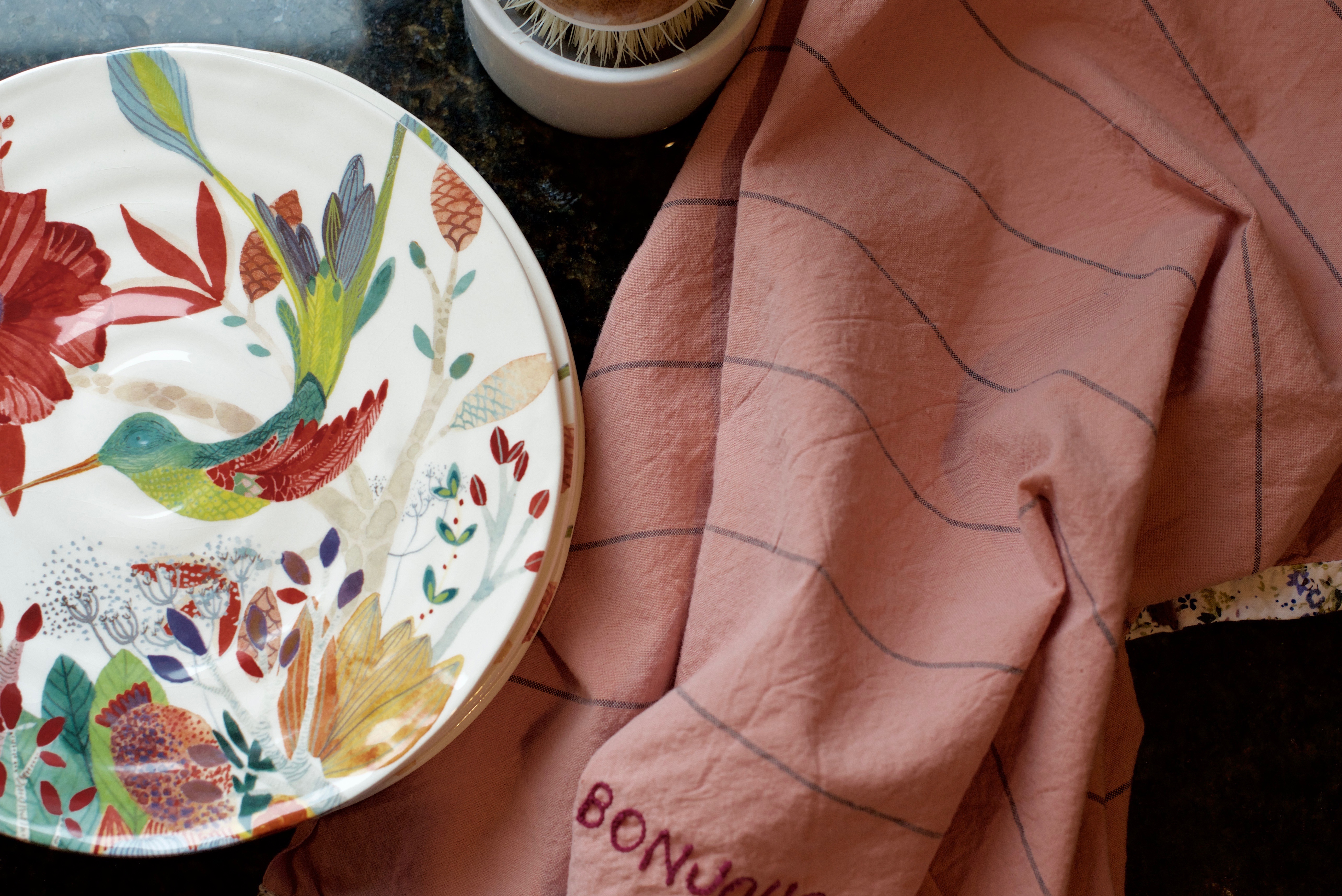 "A sign hangs on the wall in a New Monastic Christian community house: "Everyone wants a revolution. No one wants to do the dishes."" ~Tish Harrison Warren in Liturgy of the Ordinary
I sigh when it comes time to pull something edible together for dinner–my recipes spin on an endless repeat. I huff over the chopping, the stirring, the clatter of dishes on the table. I exhale forcibly when the meal vanishes into empty stomachs after only ten minutes of spooning and plate-scraping. My sighs deepen when the kids stack dirty dishes in crooked towers next to the sink, while my hands prune in hot, sudsy water for the next thirty minutes.
My husband senses my dragon breathing may set things alight in the kitchen, and he offers to wash the dishes from his place on the sofa. I reject the offer because he worked twelve hours in the office and suffered a hellish commute in both directions. This is my J-O-B, I tell him. This is what I do "for a living". My words leak sarcasm. He sighs then too, knowing this is a broken record I play when I feel particularly frustrated. He returns to his prone position in the living room, and I mumble under my breath while the water scalds and my evening's work swirls and disappears.
This scene repeats itself  in various house-keeping, kid-raising situations in my home. The sighing, the offer of help, the rejection, the complaining. I'm not proud of it. I know my choice to stay home is a privilege–a choice many women would love to make. But, I still dream of the day when home management becomes a side gig, and my writing career takes center stage. There is a hole wormed out in the deepest parts of me that aches to be filled with something more "important" than the endless stream of household chores.
In that hole, lies a deep tension between my everyday duties as a mom running a home, and my desire to do more with my life than run a chauffeur service. I want the work of my heart to matter more than the daily work of my hands, and therein lies the problem. I have swallowed the lie that one is more important than the other, the lie that I must choose between this or that, when instead I should embrace both/and.
My home life and my work life hold equal value in God's economy, and both require me to steward the gifts God has given me. Acts of service, whether through folding piles of laundry or writing words of encouragement, sculpt and shape me into spiritual maturity. Both home-keeping and writing hold weight in the world because I am created to serve through both, and neither form of work is holier than the other.
I wish someone had told me this when I struggled as a nurse in my twenties, as a young mother of littles, and later as a writer. I wish I had realized that my work changing the diaper of my own child was as holy as changing the diaper of an elderly patient. My work raising our kids while my husband finished his graduate studies was as holy and necessary as the work I complete for my own master's program. My work feeding and keeping bodies alive is as holy as writing words that feed and keep souls thriving.
I wish someone had told me that in the tension-filled hole, I will find the holy.
The New Monastic Christians have it right. We all want to do work that is meaningful, noteworthy, and life-changing for God's kingdom. But the real revolution is learning to see that faithfulness to the small, daily acts of service are the building blocks, the DNA, of the larger work at hand–to join God in what he is already doing through our lives.
In my life, the most revolutionary thing I can do right now is find the holy while I wash the dirty dishes and when I write stories, while I listen to my kids talk about their day and when I sit in the quiet and read poetry. As I shift my view to one of inclusion rather than exclusion, I find more joy and contentment in my daily life. God reveals himself in the daily liturgy of laundry and in the crafting of lines.
…..
Have you felt caught in this tension too, seeing one form of work as better/holier/more life-changing than another? You're not alone. What would it take to reframe the way you think of your everyday work?