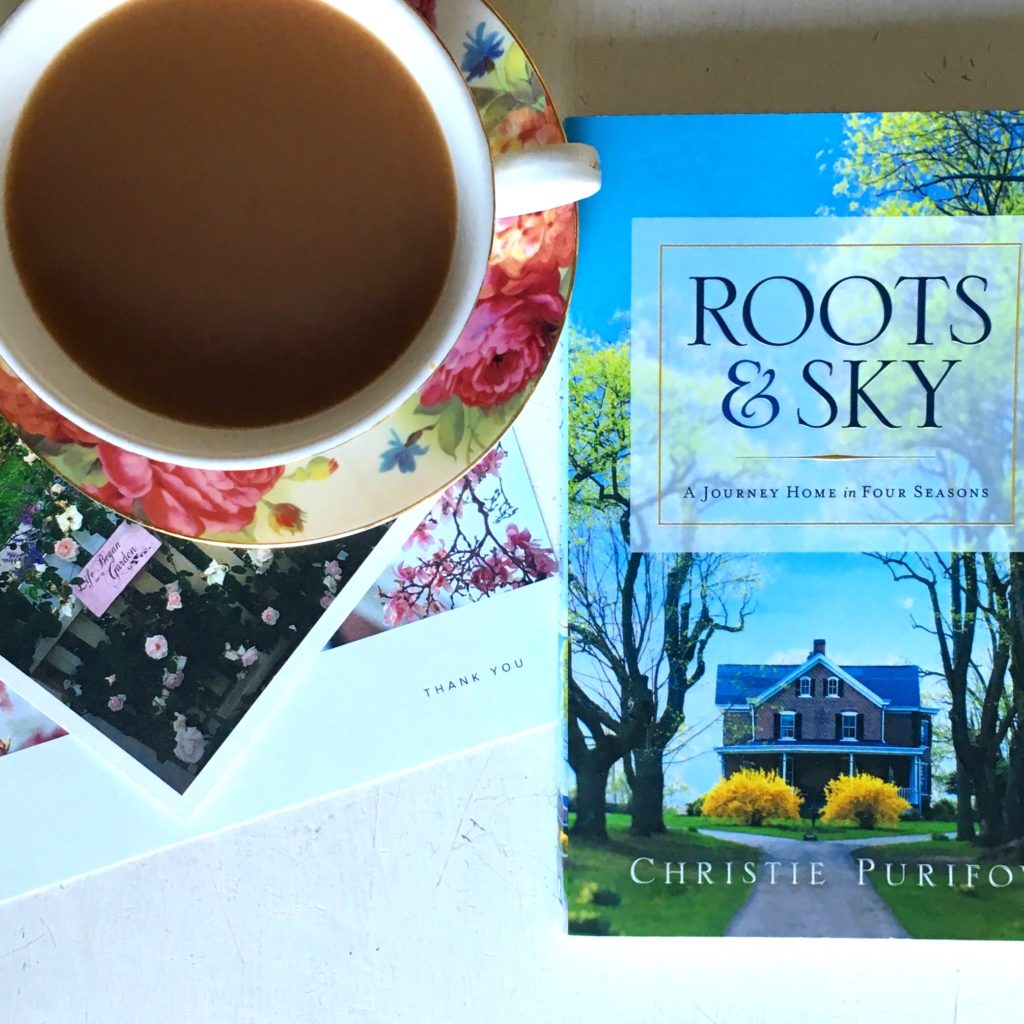 ***This giveaway is now closed. Thanks to all who left a comment here, there, and everywhere:) Kate Rice is the winner of Christie's book, Roots and Sky!***
"…home is the ground we measure with our own two feet. And home is the place that measures us. Home is the place that names us and the place we, in turn, name. It feeds us, body and soul, and if we are living well, we feed it too. Home is the place we cultivate with our love." ~Christie Purifoy, Roots and Sky
For years, I've circled around the idea of what it means to be "home". What it means to belong to a place, to people, to a chosen life. Like a dog with a bone, I have scratched at it, sniffed it out, chewed on it, buried, and dug it up for consumption over and over again. And for years, I've come away with more questions than answers, more head knowledge perhaps, but with a nagging sense in my heart that I haven't quite figured it out. Home is something I want to understand at the soul level, so you can imagine my delight and anticipation when I arrived home in New Jersey, after an extended stay in England, to find Christie Purifoy's book Roots and Sky: A Journey Home in Four Seasons waiting for me.
In her book, Christie recounts the first four seasons she and her family spent living in Maplehurst, a well-loved Victorian farmhouse without the pleasure or pain of a farm. Christie writes of home and rootedness in a way that is fresh and poetic and gentle. She writes of the everyday, ordinary circumstances through which God used this home to help her discover where she belongs, and in turn to grow deeper in her belonging to him.
I came away from her words feeling understood, feeling as if I'd met a kindred spirit across the page, which doesn't happen often when I read memoir. I felt as if Christie gathered up all of the questions and longing I've held for a true place of belonging, and placed them in her love letter to Maplehurst. I feel confident her answers will help me discover my own.
Christie's words act like an anchor, tying me to the place I belong today, right now, and helping me see that every question doesn't need an answer. Only an open heart to receive it, should one come along. Over the past few weeks, just as she geared up to release her book into the world, Christie's brother-in-law was in a fatal military accident, leaving behind a wife (Christie's sister) and four young children. Christie knows something of grief. She knows something of releasing. And this gives even more weight to her words, layering them with profound truths only those who've known such grief can understand.
"This is not my first spring, and here is something I know: the day when daffodils emerge is not the day for hope. The day when seedlings show the bright green of new life is not the day for faith. That day came and went. Hope is for the dark days." ~Christie Purifoy, Roots and Sky
These words remain as true as ever. For Christie, for her family, for you, and for me. Hope is for the dark days. Hope will guide us home.
…………….
I have one copy of Roots and Sky to give away! If you'd like to enter to win Christie's new book, drop me a line in the comments section here, on Instagram or on my Facebook page (if you're feeling extra sweet, you could like/follow my page while you're there). I'll enter a name to win with my totally un-scientific method of pulling it out of a hat. You have until Tuesday 2/2 (release day!) If you can't wait, and really, you shouldn't, purchase a copy of your own. And one for your best friend. Your sister. Your mother. They will thank you.