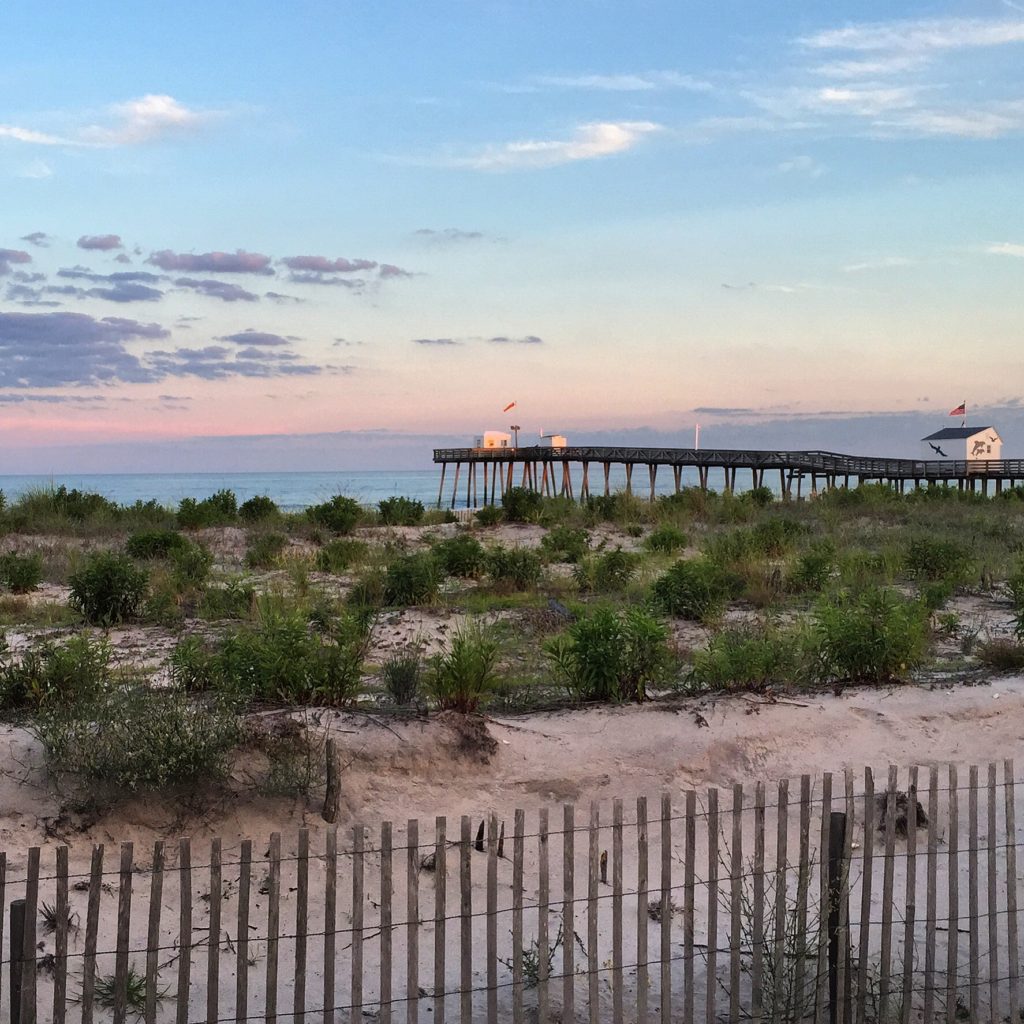 We spent last week sitting on a beach surrounded by surf, sand, and good books. We had a great big sky above us and a deck where we could sit and listen to the birds chatter in the marsh while the sun lowered behind them. I held every good thing from the tip of my fingers–my people, my journal, my books, even a steaming mug of tea to take the edge off the morning. Unfortunately, there was nothing to take the edge off of me.
I showed up a day later than my husband and kids, fresh off ten days away at my graduate school residency. I was all sharp edges and singed emotions. The criticism of my work and the pressure to perform well and not appear as smalltime as I really am, left me sharpened to a precise point. The better to prick you with, my dear.
I couldn't relax or let go or turn my brain off for more than a few moments of time. I worried I'm in over my head. I worried my life is too small to write a compelling story. I worried about all the writing work and church work and family work waiting for me at home. Each brilliant sunset across the bay brought me one day closer to stepping into a life I'm not sure I have the capacity to hold.
I found myself sitting across from my husband in our favorite pancake house, tears threatening to fall, while I tried to explain how meager are my abilities and how great the desire to answer the call to work and write and parent our kids well. I may have said something like, "I can't freaking do it all!" while smearing tears across my face with a chocolate stained napkin. Later, on the long drive home, I remembered what Emily Freeman said in her book Simply Tuesday, "To know that the work will be completely by the Spirit of God and not by my effort means I can sit down on the inside even as my hands are fast at work. It means I don't have to keep pace with a fast-moving world even as I am engaged in the activity of it."
I needed to remember these words on the first day of my vacation. I needed the message of this book at graduate school when a fellow student called my essay "ordinary and mundane" TO MY FACE. I needed to remember my smallness, my inability, my reliance on Christ when I sat in the driver's seat with a car packed full of the remnants of beach memories I didn't have the presence of mind to make.
If I had internalized the message of Simply Tuesday before my head ran away with me, I'd have remembered this, "Tuesday teaches me that part of living well in ordinary time is letting this day be good. Letting this day be a gift. Letting this day be filled with plenty."
I am home now, and as I thumb through the underlined sentences and dog-eared pages of Emily's book, I remember my smallness is not a curse. It is an opportunity for me to allow Jesus to step into his rightful place in my life. I can rest in my inability to get it all done, and done well, while trusting in the sufficiency of Christ. I can give myself the gift of this day and allow my heart and mind join me in true rest.
Update: Amanda Holland is the winner of Emily's book after leaving a comment on my FB page! Thanks to all who left a comment. Get yourself to a bookstore, stat:)
………….
If you find yourself in a similar place–in need of rest, wanting to embrace your smallness rather than fight it–I'd love to give away one copy of Emily's new book. To enter to win a copy, leave a comment here or on instagram or my Facebook page. I'll choose a winner in a totally unscientific manner of drawing your name out of hat.
If you just can't wait to read the book, by all means get yourself a copy! Check out this page for more info and freebies from Emily.