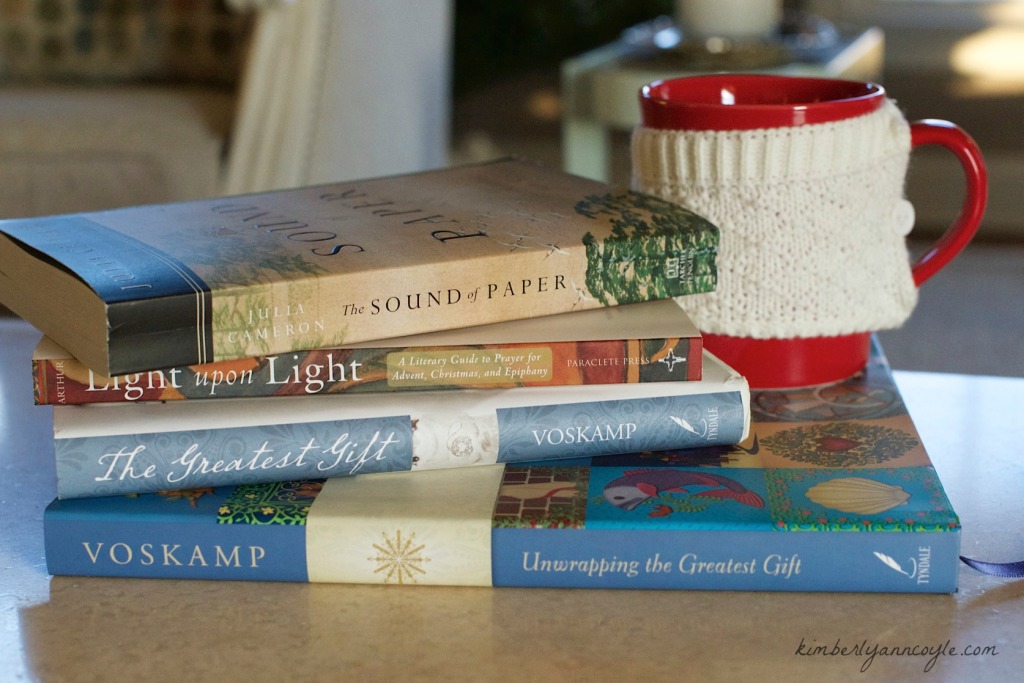 You should know, I am not my best self around the holidays, I'm probably my truest self, but certainly not my best. This time of year sends me into a frenzy of holiday distraction and people-hangovers and shopping madness. I have multiple virtual carts loaded with items I don't need, and I spend hours running fool's errands. At the start of the week, I created a self-imposed writing deadline for a new project. So naturally, I spent 40 minutes yesterday looking for kid's knee socks at Old Navy. Then I braved the grocery store for imported spreadable butter. Then I got a pedicure. Oh, alright, I got a mani/pedi. Really? Do I need to buy knee socks and buy imported Irish butter in the crushing crowds of this season? No, I do not.
I also waited until the very last minute to complete my annual photo books on iPhoto (cue the gnashing of teeth and rending of garments when I realized this year doesn't include a single photo requiring an airline ticket or suitcase), and we decided to "update" the basement in time for Christmas. Mr. Coyle's idea of an update includes major construction and too many trips to a DIY store that shall remain nameless. Today, we paint. Pray for me. Home improvement Saturdays create trying times in our marriage.
Consequently, I find myself waking up before sunrise to write. I wrap a blanket around my shoulders, turn on the Christmas lights, and watch the sun emerge in  orange as the tree tops sit like black lace in silhouettes against it. I feel torn between my desire to read in the quiet and to write. I try to fit in a little of both. If you find yourself in a similar situation this Christmas, desperate for a bit of relief from your self-imposed crazy, here are a few things saving my sanity:
1. Ann Voskamp's Unwrapping the Greatest Gift (for families) and The Greatest Gift (for us). As we observe Advent for the first time this year as a family, I chose Ann's books to accompany us on the journey. I can't overemphasize how much we're enjoying Unwrapping as a family. The threads of Jesus' family tree usually come to my kids in bits and pieces, making it impossible for them to string the fullness of the story together. This book weaves such a tender re-telling. I'm reading the adult version in the morning to center myself on what truly matters. It remains up for debate whether or not this strategy is working.
2. Light upon light by Sarah Arthur. This collection is beautiful, including truly gorgeous words of scripture and prayer and poetry. More than anything, this draws me deeper into the mystery of this season. No "Flash Sale" signs pop up in the periphery, just lovely words that quiet my heart and spirit.
3. Julia Cameron's The Sound of Paper. I know, this list is made up entirely of books. I stumbled across this at the library, and after I dog-eared a few pages (sacrilegious. hate me.), I ordered my own copy to mark up to my heart's delight. She makes me feel as if every effort I make to put a few words on a page is worth it.
4. Frequent texts with my sister about everyday happenings. In the past, I'd best describe our relationship as tricky. I blame this on the five year age gap between us, and my complete inability to see her as a real friend rather than a pesky sibling. Sorry, Sissie. Despite all odds, she persisted in loving me through the years when raising little ones became all consuming, and living abroad made relationships even more tricky. Knowing she cares enough to check in on the little things is literally saving my sanity, one text at a time. Do you have someone in your life who might be floating in the background of your life, holding out their hand like an inflatable raft in a sea of crazy?
5. Satellite radio. My husband installed this in my car when I told him I can sometimes hear music while listening to static on my car radio. I can't even describe the joy that is the Holiday Traditions station. A jazz version of the Nutcracker Suite? Bing Crosby and the Anderson Sisters? Seth MacFarlane as guest host? This beats trying to hear the latest news update on NPR through fuzzy airwaves any day. If you're a Sirius fan, leave me a recommendation of your favorite stations in the comments.
6. Mugs with sweaters. Does it get any better? These make me smile every time I see them. I plan to fill them with peppermint hot chocolate, in a further effort to save myself from a downward spiral into holiday psychosis while waiting in line at Starbucks.
7. Daily exercise. I know you don't want to hear it, but it's the truth. At some point, you have to work off those peanut butter cookies because the Hershey Kiss melting all delicious and gooey on the top will not look as appetizing on your backside. Also, running is a sanity saver. In an effort to make my life even more over-scheduled during prime writing hours, I spent an hour at a new gym this week for a trial session. I can no longer move my top or bottom half, so thanks for that Get In Shape for Women. I think their goal is to make you so sore, it's physically impossible to reach for the cookies in the kitchen. Job well done, twenty something trainer with no body fat whatsoever.
………………
Tell me, what's saving your sanity this Christmas?