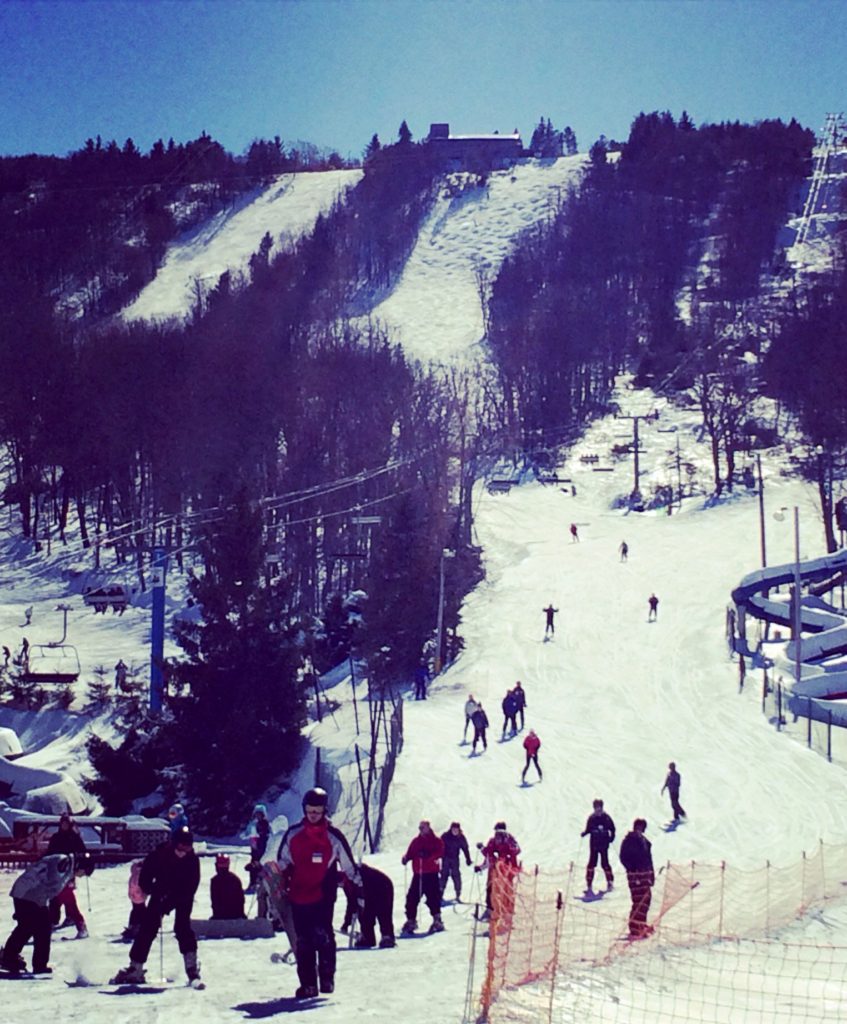 Yesterday, we drove to a local mountain and skied for the first time since moving back from Switzerland. To say that it was a wildly different experience is an understatement. For one, my daughter and I repeatedly said to one another, "Don't you expect everyone to speak in German?" Or, in my case, yell German at me on the mountain for some reason I've yet to understand. We missed the cushion of pure powder snow and the never-ending views of alpine peaks. My oldest ordered greasy chicken (?) nuggets and limp fries for lunch, she took one look at it and said, "I really miss alpermacaroni." I missed the glass of wine that usually accompanies it.
I didn't miss being plowed over or the death-defying drops or watching five-year olds ski by me with the expertise of an olympian. No, didn't miss that at all. I didn't miss the inevitable falling down the slope, the falsely advertised "beginner" hills, or the gut wrenching fear. Here, I found a run that challenged me just enough to quell the fear, and allow me to make it down the mountain in one piece. It was populated by children and parents trying to teach them, but every time I reached the bottom, I felt like a champion. I take my victories where I can find them, even if I'm surrounded by pint-sized kids tethered to skiing leashes.
My son, an expert boarder, ran a few early beginner runs with me and when he reached the bottom of a long run, he said the familiar feeling came back. He reminded me of one of his boarding lessons at Swiss ski school, when the instructor took them to the top of a difficult run. He had them face the bottom straight on, stretch out their arm like superman, and fly directly to the end. No turns to slow them down, no stopping. They had to superman their way down the slope in order to get over their fear of going too fast. Terrifying, but effective. Yesterday, my boy ended our day on a black run, red-cheeked and triumphant. He got his flying feet back.
In both skiing and in life, I am overly cautious, I carry fear in my belly, where it gestates and I give birth to tears and irrational outbursts of anger. There are few things that scare me more than supermanning my way through life. I may never go out in a blaze of glory, but I've learned that slow and steady still finishes the race. The cheering section may disappear by the time I reach the finish line, but I will finish well, nonetheless. I will tether myself to true grit and allow it to guide me down.
…………………………………..
What mountain are you facing in your life right now? Will you superman it or grit your way to the finish?