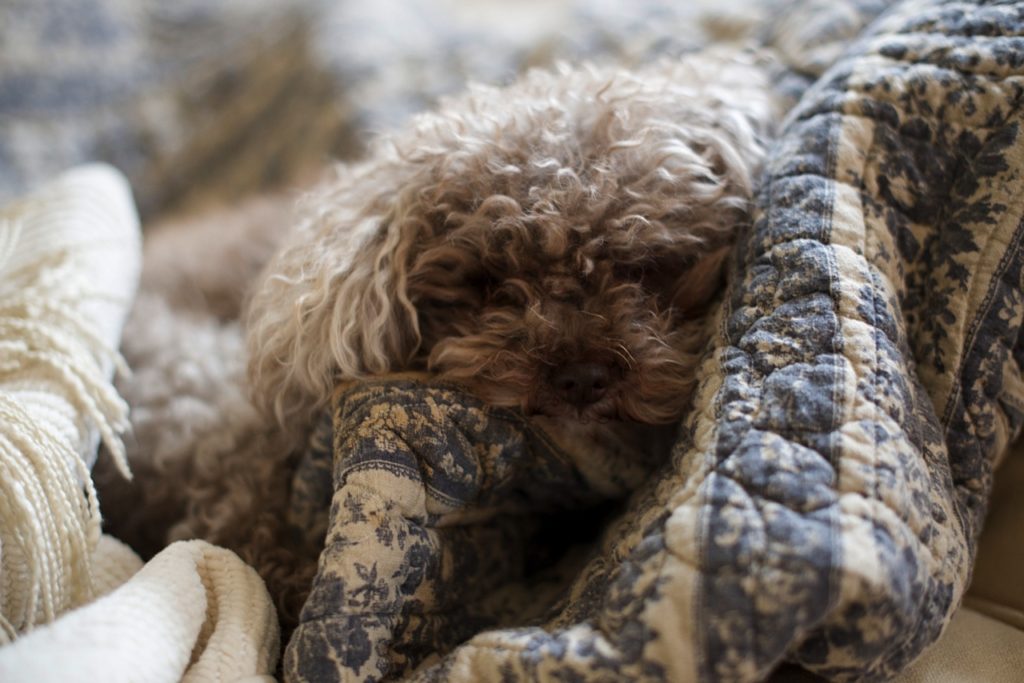 The dog visited the groomer a few days ago, and he returned looking like a small dog as opposed to a squirrel. For this, my family is thankful. On arrival, the groomer retrieved her notes on our previous appointment. She pursed her lips when she read, what I can only assume, was a less than stellar report on our last visit. To recap, the dog was matted (due to a series of events, such as an international move and an extended stay with relatives), I signed a waiver stating I was mostly unfit to look upon a dog much less own one, and he came back bald. He made it up to me by pooping repeatedly on my great-grandmother's oriental rug. It was a dark time.
Since then, every so often, I sat in front of the tv with the dog on my lap, and I brushed out his fur until it felt like silk. The pursed-lip groomer shook her head imperceptibly when I handed him over, and then she gave me a warning: "He doesn't look matted, but I really can't be sure yet." Well, I hightailed it out of there before she could give me a lecture on the state of his teeth or the hair covering his eyes.
When I arrived to pick him up, she smiled and handed him over, along with a "Pawgress Report" in which the dog received an A+. On opening the report, I discovered it wasn't really the dog who was being evaluated. It was me. "Great job on brushing" she wrote in looping letters. She may as well have said, "Great job on not being a total slacker, Loser." But, I suppose we take our compliments however we can get them.
When it comes to words of affirmation, I'm a fan. This world isn't hard-wired for soft souls like mine. It's not gentle to those of us who gather the words that fall from others lips and then carry them home in a wicker basket to spread out and feast on later. I've learned not to eat of the rotten apples and the moldy bread. Most harsh words go straight into the bin, and I feel healthier for it. But, I do feel a distinct hunger for the good words, the ones that not only nourish, but that also satiate and fill me, body and soul.
I suppose that's why I love quotes and stories and lyrics so much. There is life and death lying dormant in them. All they need is someone to tease them out, to pull them upon one's lap and stroke the syllables until they're spun like silk. It's why I read, and I suppose it's also why I write. As I do, I hope you will smile a little, and let the good sink down into your soul. Today, let's give ourselves an A+ for effort–for good words and kind thoughts and for greeting the world with a picnic basket ready to scoop them up as they fall.
………………………………..
What are some of the words your eating right now? Books, songs, love letters, poems? Please share!