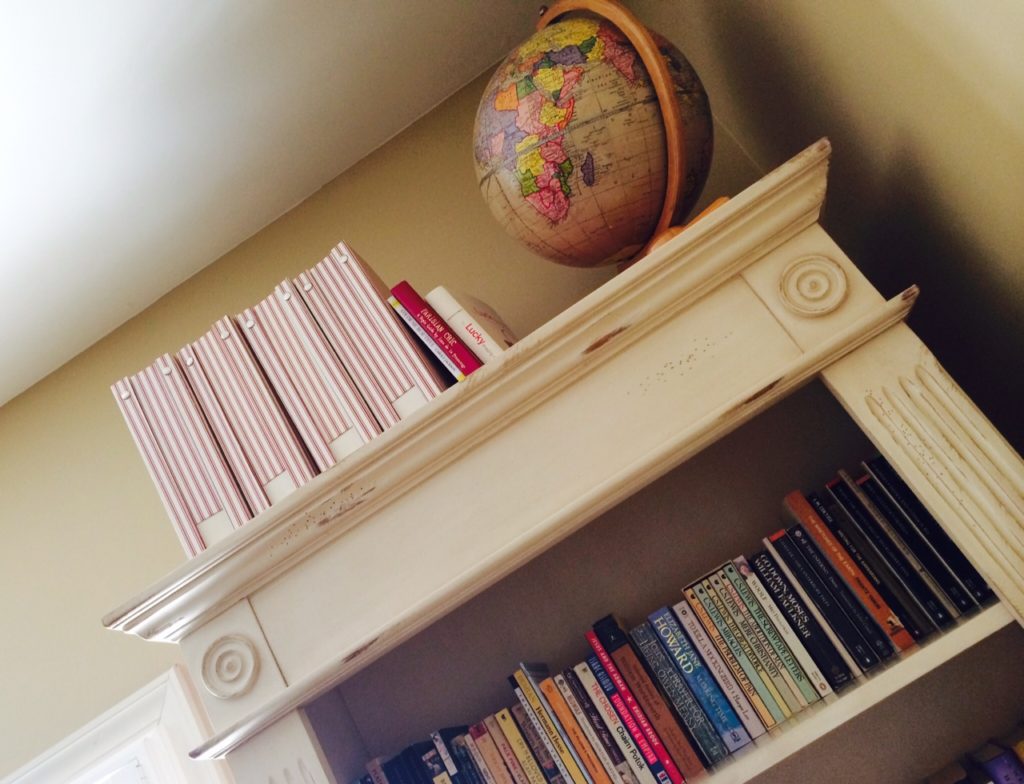 Remember when I wrote about my lack of hoarding, and my penchant for throwing important items away? I failed to mention my dirty little hoarding secret. I hoard books. There isn't a room in my house where you can't find a stack of them lurking somewhere. Next to the bed, in the hutch, under the coffee table, stacked up high in the basement. A Kindle sits in a drawer somewhere with worlds hidden behind its screen. Lest you think this I consider this a problem, I assure you, it is one I never want to solve.
A few days ago, I saw a job posting for an assistant book scout. According to the description, the sole purpose of this job is to read for a living. Where has this been all my life? Jobs actually exist in which one is allowed to read books all day, every day? For a living? Forget this writing mumbo-jumbo. Let me feast on other people's words. Let me bathe myself in their tears, and revel in their blood and sweat.
To that end, I thought I'd join Anne at Modern Mrs. Darcy and show you all what's on my bookshelf. Brace yourselves. My taste in books carries with it a certain "no rhyme or reason" sensibility. I also happen to share these bookshelves with a man who might read about Navy Seal operations one night, and Genesis in Space and Time the next. We make an odd pair.
Join me on the bookshelves?
For when I want fiction: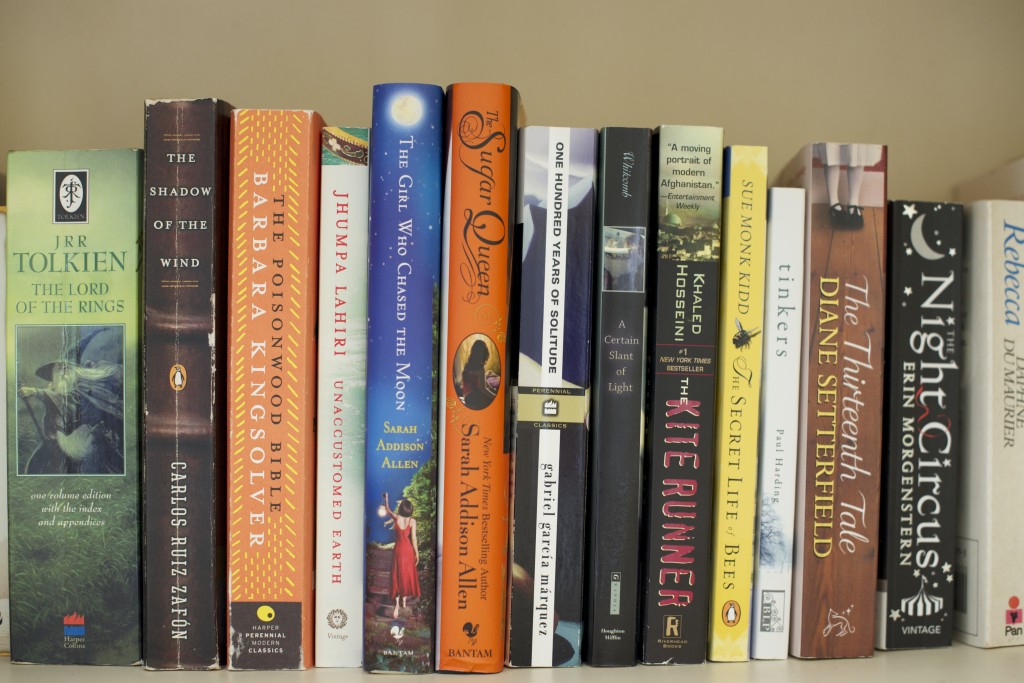 By far, the most confusing and difficult book in this little stack is One Hundred Years of Solitude. The rest, mostly winners. My Favorite: The Poisonwood Bible. Least Favorite: The Sugar Queen. Confession: I've never read The Lord of The Rings. Don't hate me.
More fiction: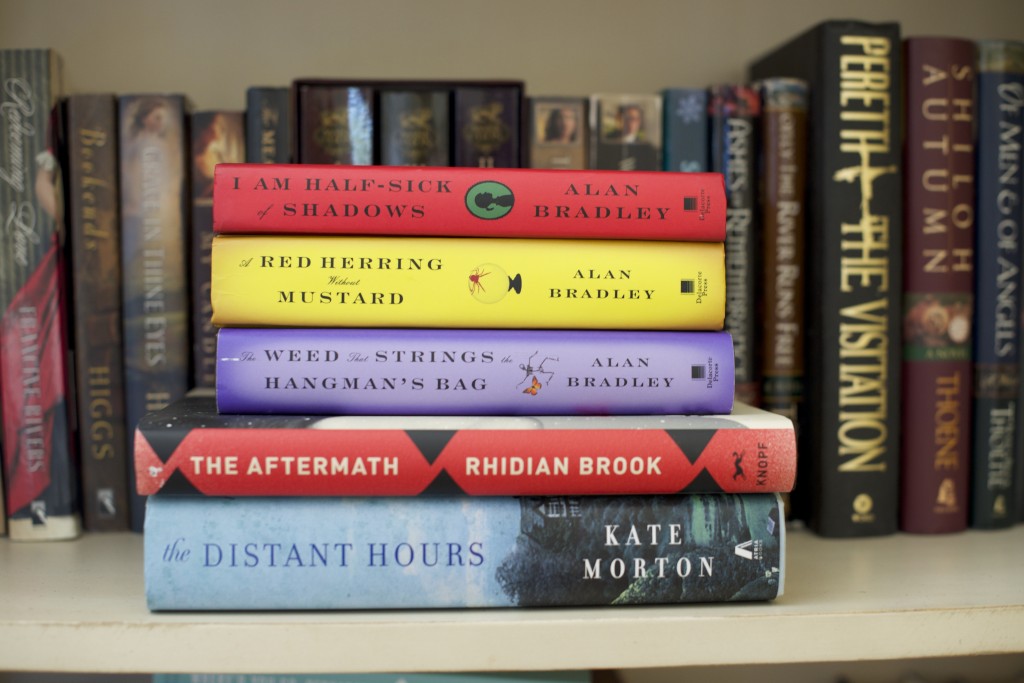 I'd read a grocery list written by Kate Morton. The Distant Hours will keep you up at night. Looking for a quirky, fun, cozy mystery? Give Alan Bradley a try. His character Flavia de Luce is one of my all time favorites. The Aftermath is fantastic. Before too long, I suspect it will make a blockbuster film. Get the book and cast the characters for yourself.
For when I want to remember: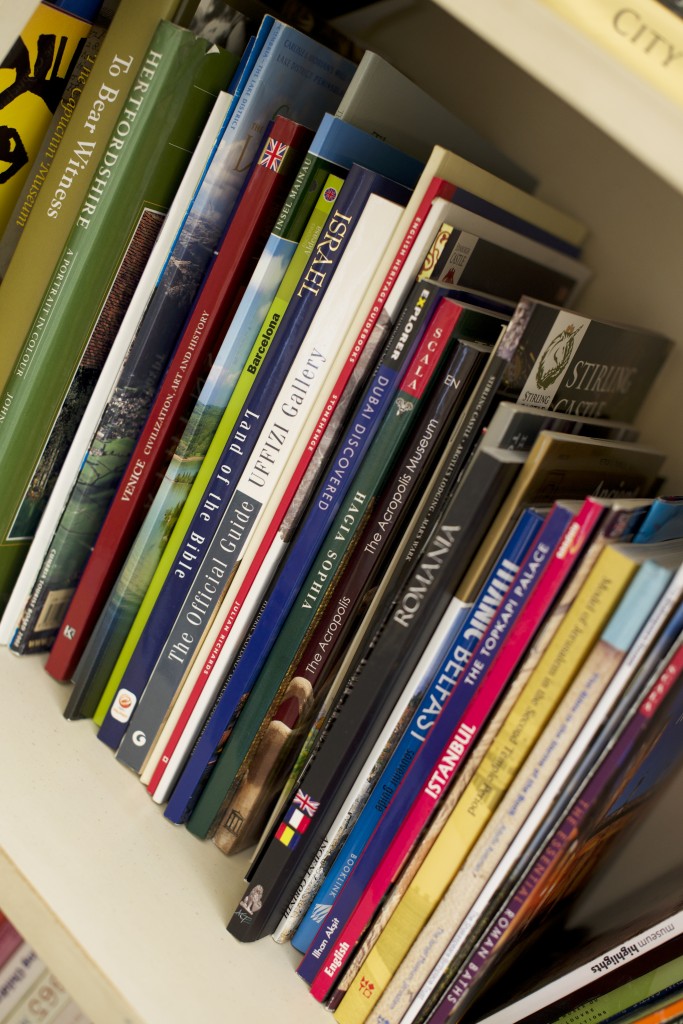 We grew into the habit of picking up small tourist books from all of the interesting places we've visited over the years. Cheesy? Yes. A great way to remember all of the people and places that have shaped us? Absolutely. We have entire shelves of these.
For when I need real stories: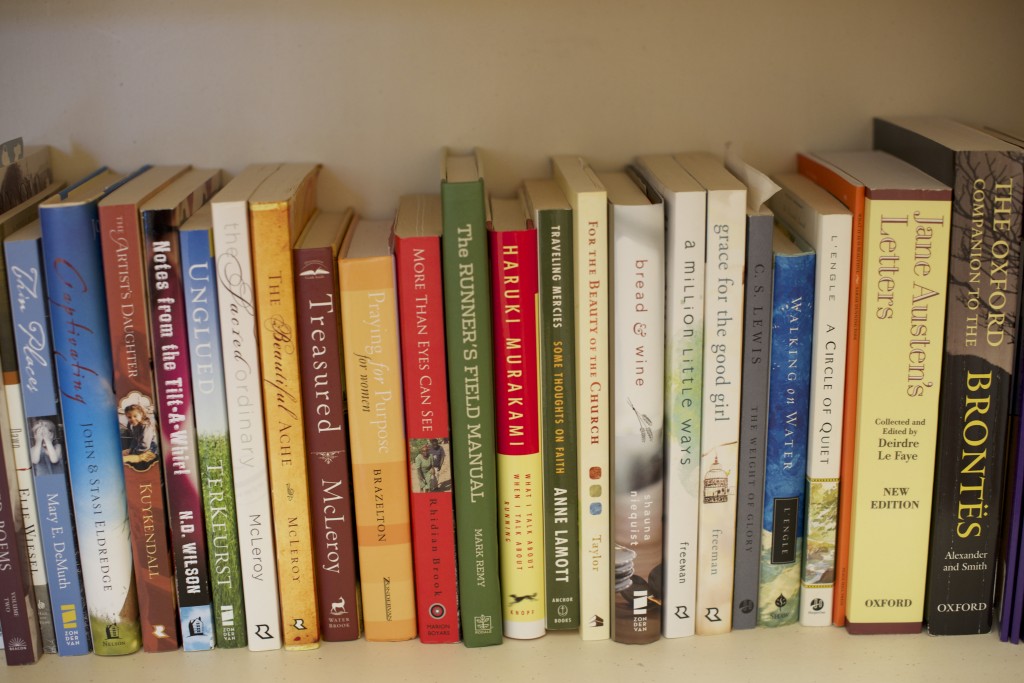 Another confession: Fiction is my first love. Non-fiction is sometimes a chore for me. My favorite: Walking on Water by L'Engle.  Bread and Wine by Shauna Niequist is also a contender. And Ann Lamott? Can I be her when I grow up? She is equal parts irreverence and wicked wit and burgeoning faith.
For when I can't handle chick-lit: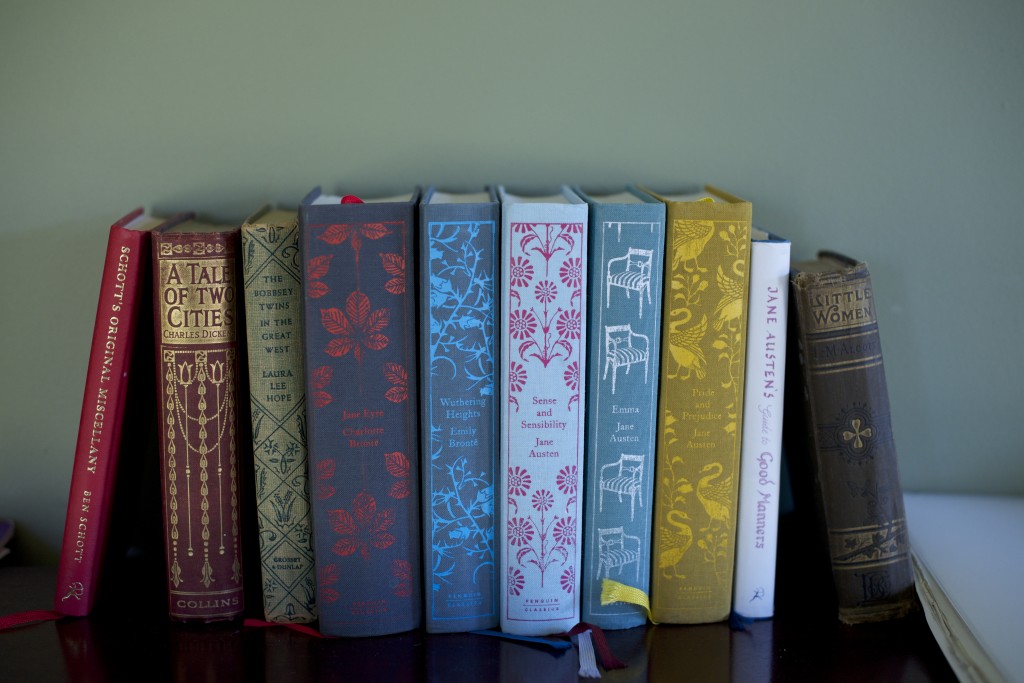 These are the books that help me make up for a dismal secondary education. I want to crawl inside each of them and stay awhile (ok, not the Bobbsey Twins, that one is purely for nostalgia). My favorite book of all time, forever and ever, amen: Little Women. My parents gave me this vintage edition and sometimes I open it just to smell the pages.
Thanks for joining me on this sliver of a tour. Maybe another day we'll get to the books I have piled up elsewhere. If you need me, I'll be feasting in the stacks.
………………………..
Tell me, do we have any books in common? I'd love to hear what you're reading and what you think I should add to my bookshelves next.