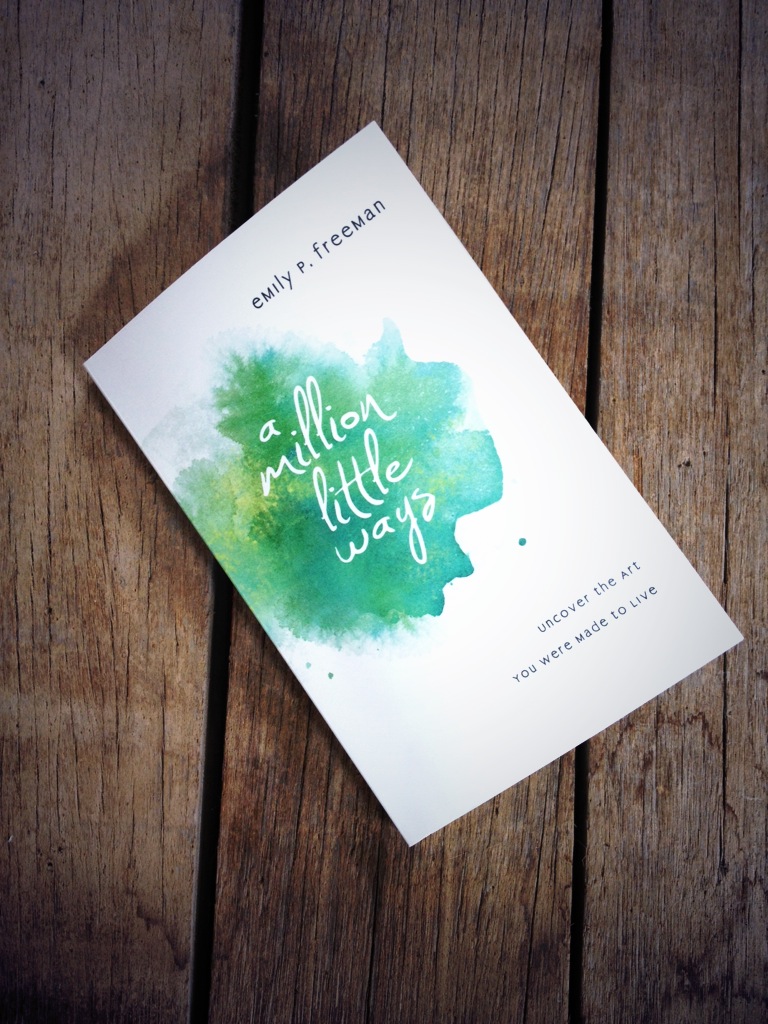 ******This giveaway is now closed. Thanks so much for your interest.*********
I don't do giveaways. Not because I don't think they're awesome (they are), but because I rarely manage to keep up with the goings on in my everyday off-line life. Add in internet goings on, and there's no end to the chaos I might create. The mothers on the receiving end of my emails, fulfilling my duties as Classroom Mom, would heartily agree. I'm a train wreck when it comes to the details.
But, today calls for a giveaway, and I'm committed to following through. If you've read here for any length of time, you know I am a fan (I prefer not to call myself a stalker) of Emily Freeman and her writing. This fall, she released her third book called A Million Little Ways: Uncover the Art You Were Made to Live. I scooped up a copy as soon as it showed up on the shelves, and highlighted the life out of it.
This book. Friend, it doesn't matter if you consider yourself an artist or not, this book will turn you inside out. It is for each one of us who has asked the question "What do I have to offer the world?" and feared that the answer is "Nothing." Emily looks deep into what it means to live life as an artist, one who is created in the image of God, with the express purpose of bearing His image in this world. We each have something to offer, and what we offer comes out when we live our lives "like a lyric and not a list".
Emily says this, " …we have the capacity to reflect the relational glory of God no matter who we're with, what we're doing, or what's gone wrong. This is when art is a verb rather than a noun. It isn't something you point to, it's a way you live."
If you feel stuck, fearful, or confused about what you have to offer, consider living like art is a verb. If you're not sure where to start, start with A Million Little Ways. It walks you through a process of discovery and helps you uncover your art. Because I love this book so very much, and I want all of us to learn how to live like an artist, I'm giving away two copies of Emily's book today.
Leave a comment, and I'll pick two winners at random to receive a book. Be sure to include your contact details. Tell me, what does living like an artist mean to you?
……………………..
The Bloom book club at (in)courage is using A Million Little Ways for their current discussion. If you're looking to dig deeper into the book with others, you might consider joining them. Check out Bloom for more of Emily and her book.