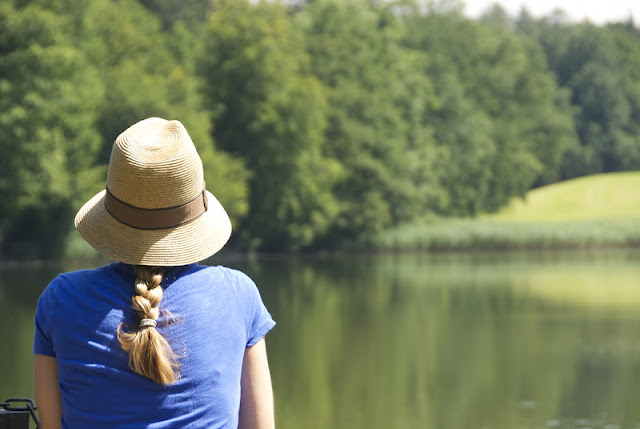 Summers are hard on mothers and writers. They're especially hard if you're a mama writer living in a hotel room with three little people and a deadline. As I may have mentioned a time or twenty, I have plans to attend a writer's conference at the end of July, the very same week we move into our new home. (I court the chaos, it's like a sickness.) At the conference, I will meet with a few editors and pitch a new book, one that's knocked about in my head and heart for about a year now. Unfortunately, I need more than the few thoughts I have rattling around, and I am in the process of pulling together a book proposal. Thousands and thousands of words plucked from the air, and put down on paper. My current life situation isn't really conducive to this sort of project.
My mother-in-law, perhaps sensing I would need a Xanax IV drip if I didn't get some peace and quiet to write, kindly offered/was volunteered by my long-suffering husband to keep the kids for a few days. I packed my bags and holed up on the fifth floor of a hotel room overlooking a Maggiano's restaurant, and I'm typing the hours away. When my husband returns to the room after work each day, he asks how the proposal is coming along, and my brain is a fuzz of caffeine and swirling letters. I try to sound positive, but it usually comes out in a mumble of incoherent words. I think he secretly suspects me of catching up on talk shows all day. Oprah at four, Maury at five.
All of this to say, I am here. I am writing. I feel simultaneously in love with and disgusted by my own stories. Send help. Or caffeine. Maybe chocolate?
It is good, hard work. I feel my muscles stretching, a settling into the rhythm of words like a runner settles into their footfall on the path. Tomorrow I return to the Mama me, the keeper of hearts and small hands and the key to the candy cabinet. But today, I am the writer me, the runner me, the one set free from the tyranny of summer vacation.
………………………………..
If you had four days to yourself without kids, work, or other obligations, what would you do?