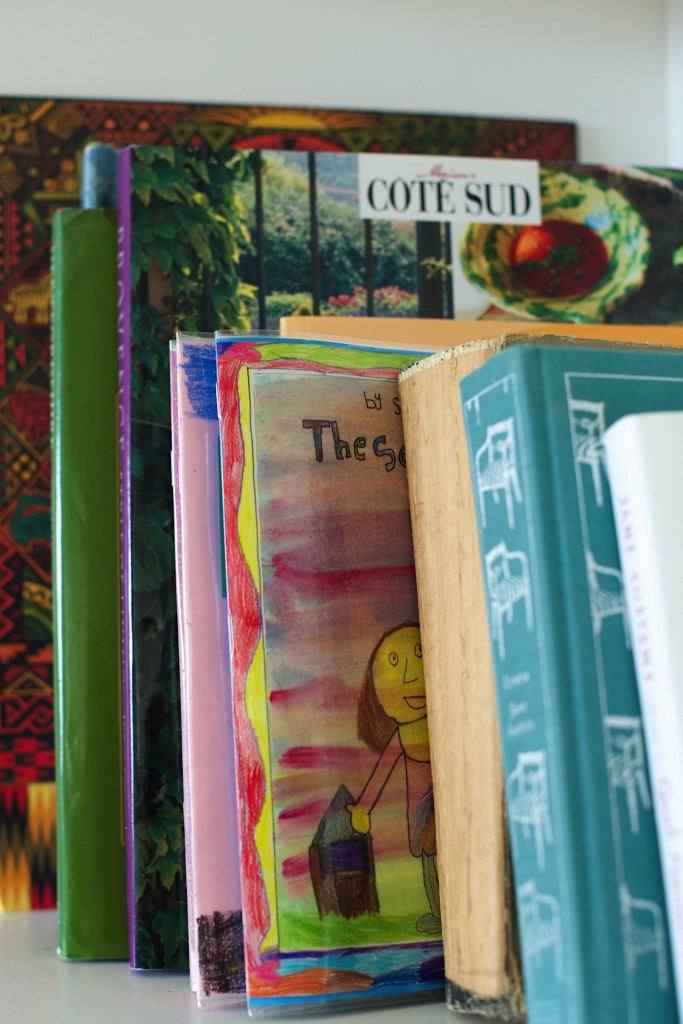 I visited my daughter's class this morning to attend a folk-tale performance set to music, as well as student-written vignettes based on little known folk stories. The students wore hand-made masks and horns and wings as vibrant as Joseph's coat of many colors. At the end of the performances, after much bowing and many toothless grins, the teacher invited us to read folk tales written and illustrated by our own child and bound into a book.
My girl squeezed up tight against me, and opened to the dedication page:
Dedicated to: My Family because they love me no matter what.
She then flipped to the back page:
About the Author: S. Coyle is seven years old and loves to go swimming. She is also a kind friend.
She looked up at me and shrugged with a little smile, We're allowed to say something nice about ourselves on this page, Mom. Ms. Lorna said so. 
She then read her story, which contained dialogue like "Poo", which according to the author is So me, Mom, that is so me! And while I'd like to argue that poo isn't something I regularly associate with my girl, I do see her personality woven throughout the story. She's written all over the pages in words,wax, and vibrant color. She giggled to herself while she read it aloud, and it was obvious how much she delighted in her own creation. I imagine God feels the same way when He gazes into the depths of the ocean or the wilds of the jungle. I like to think He smiles at a monkeys antics and chuckles at the dolphin spraying salt water as it leaps with joy.
This week, my writer's group talked about creativity and discussed these words by Madeline L'Engle in Walking on Water:
"Creativity is a way of living life, no matter what our vocation or how we earn our living. Creativity is not limited to the arts or having some kind of important career."
My daughter is seven. She likes to swim and is a kind friend. She knows how to compliment herself and she likes to take a bow. She creates and takes great pleasure in the work of her hands and she wants to share it with me. I can tell you, it has never occurred to her that she might not wear the label "creative" because she is and she lives as if she believes it.
A few of us in the group admitted to not feeling like the typical creative, the ones who live with flair or an artist's eye. But, today I watched twenty second graders prove that creativity comes in all manner of forms. Even in a story with such exclamatory gems as "Poo!" As it happens, my creativity lives most on the page, but I want to learn how to live as if all of life is an opportunity for creation. I want to feel the joy, use the color, laugh at the sprays of salt water and call it good.
…………………………………………..
So, today I pose the same questions I asked my fellow writers: How do you nourish creativity in your everyday life? Do you find it difficult to find a creative place outside of your writing (or cooking, working, teaching, painting, etc.), or do you consider yourself a life artist? And a question for the little kid in you–how would you compliment yourself on an "About the Creative" page?