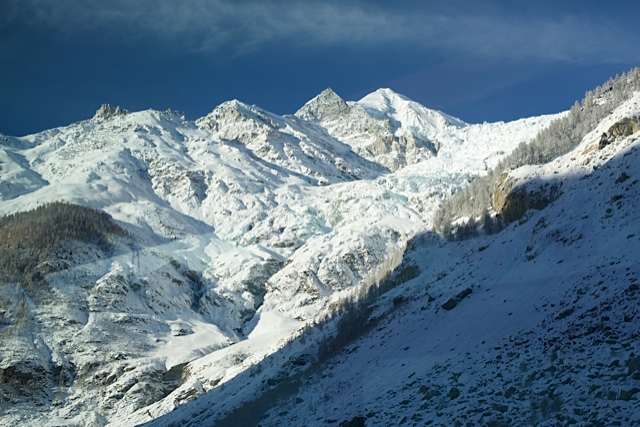 We spent last Saturday night in the mountains. More than anything, more than chocolate and cheese and a public transport system that always runs on time, more than all of this, I will miss these mountains. It snowed most of the day, and the sky remained overcast and star-less that night, as we joined a group of winter enthusiasts (I have another name for these people, which I shall refrain from sharing) for a snowshoe hike. Some folks wore headlamps, but before setting off, the guide requested we turn off all the lights. I prefer to walk in the dark, in the quiet, he said. And those with lamps clicked them off and the chatter hushed and we walked over snow under an ink sky.
The feel of skimming over the top of the snow made me think of walking on water, and how it must feel to rise above the very thing you expect to sink you. I've lived through many a day, week, even month where I expected this overseas experience to sink me. But God, ever gracious, ever-present and ready to stretch out His arm to save, helped me walk it through.
I am weak. I know this. Other women sometimes call me brave and they say, I could never do it–I could never leave my town, my friends, my ability to run to Panera when I don't want to cook dinner. And I try to receive it as a compliment, but I always feel false because the truth is, I can't do it either. I have many days when my husband flies away and the children lose their minds and I want only to feel solid ground beneath me. I don't want the splashing of the waves at my feet and a Savior who calls to me, Come.
My faith is small. And yet, Christ has bid me to come, to walk, to grow this speck of a faith seed into a tree bearing good fruit. I'm learning sometimes He does this in the dark, in the hush, under cloudy skies with weird things strapped to my feet, so I might learn to rise above.
When we reached the crest of a hill before turning back, the guide had us gather round. The mountains rose up on every side, surrounding us in shadows, ancient witnesses. Our guide began to chant and the others soon joined in. They ended with a rebel yell, voices rising and falling into the valley of snow. A shout of victory.