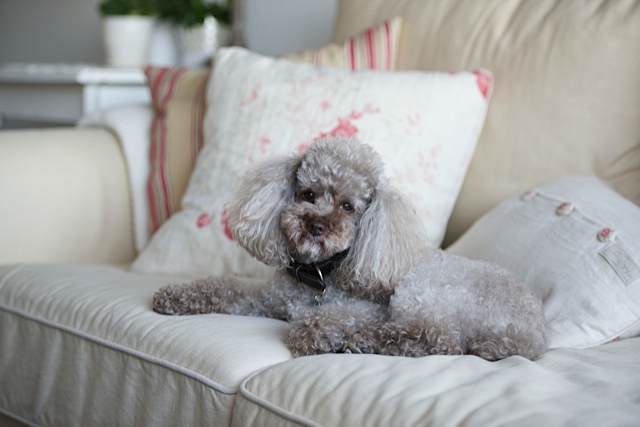 Last night, I discovered the dog snuck into my daughter's school back pack and ate a cupcake she had stuffed away for later. I would say she hid it, but once we found the cupcake wrapper chewed up and strewn across the floor, she informed me she was "saving" it for another day. The dog then developed some sort of stomach discomfort as evidenced by the heavy sighing and jumping at the foot of my bed all night long. I discovered this stomach issue after receiving a call from the groomers this morning, informing me I had forgotten the dog's appointment. I apologized in one of the five German words I know, and rushed the dog to the car only to discover the street blocked by an unmanned cement truck. I don't know German for Move That Truck, so I parked and decided to run all the way to the groomers with a short-legged dog nursing a stomach ailment, unbeknownst to me.
Ten minutes, a few confused pedestrian looks, and one explosive doggy diarrheal episode later, I arrived at the groomers and realized the dog's hind quarters looked filthy from the aforementioned episode. Prior to leaving the house, in a move I can only describe as moronic, I removed the two packets of tissues I keep in my coat pocket. But, I remembered to bring a plastic poo bag, so I put my considerable improvisational skills to work, and I wiped him down with an orange plastic bag the size of my palm. Yeah. To call it ineffective would be an understatement. I gave up at this point and opened the door to find the groomer glaring at me from behind a security gate and her own crossed arms. This is one of the few times a language barrier feels like a blessing and not the bane of my existence.
I don't know what transpired while the groomer cut the dog's hair, but she seemed exceedingly happy when I arrived on time to pick him up. This is the last haircut he'll get before we move back to the US. It seems fitting to go out on this note–a little late, a little embarrassed, a little bit of a mess.