To the littlest, I gave the task of setting up the nativity. It sat in a green plastic bin for a week and she asked repeatedly if today was the day we could unwrap the pieces. That day finally arrived, after I gave up my distraction with hanging wreaths and monitoring the fake snow situation in our ceramic snow village. As I emptied the bin, she stood so close I could hear her breathing. To her, setting up the nativity was an honor, to me, it was one less thing I had to do.
I left her in the hall, arranging, re-arranging, fiddling, and yelling when her brother tried to adjust the camel. Way back, before the birth of three children took away my will to decorate with precision, I was deliberate in the nativity planning. Each person, animal, and winged creature in perfect position. I let my girl fuss with the pieces as long as she liked, and after some time and another altercation with her brother, she came to me with a sigh.
"Mom, how would you do it?"
And not wanting to crush her creativity, I mumbled something about her doing it any way she liked.
"But how would YOU do it, Mom?"
I responded with a vague, I don't know. I guess I'd have everyone focus on Baby Jesus.
After a little more shuffling on her part, I entered the hall to this scene.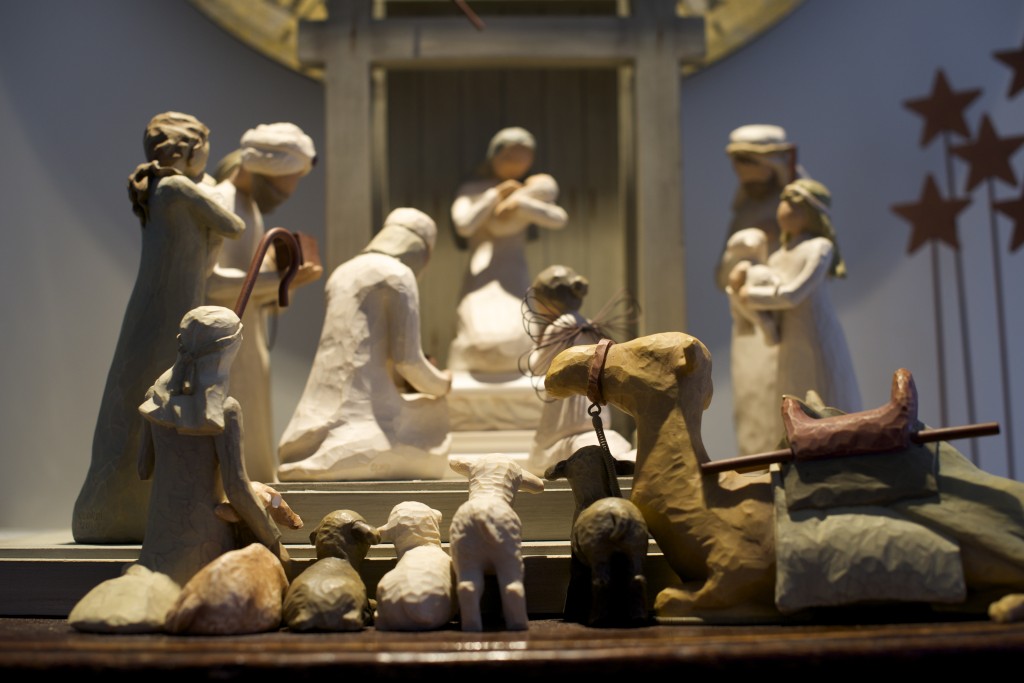 She arranged each piece, man and beast, so they focused solely on Christ. I smiled at the sheep all lined up in a row, heads cocked and tuned to the sound of a newborn baby's cries. With all my heart I believe this truth, He is Emmanuel, God with us. God with us thousands of years ago, God with us today. All the distractions of the season–the ornaments, sparkle, and jingling bells–add nothing to this scene of our Savior, born into our thin skin, our seam in time.
She monitors the nativity every day, to ensure one ten-year old prankster moves nothing out of place, while keeping Christ at the center of it all. May this always be so, in her heart and mine.