Today, my friend Michelle DeRusha joins us to talk about God's presence on the journey. I had the pleasure of rooming with Michelle at a writer's conference this summer, and discovered she is authentic, funny, and incredibly generous with her gift and general awesomeness. We all need a Michelle in our lives. You'll want to stop by her blog Graceful and stay for a while. Her writing is just as wonderful as the person behind it.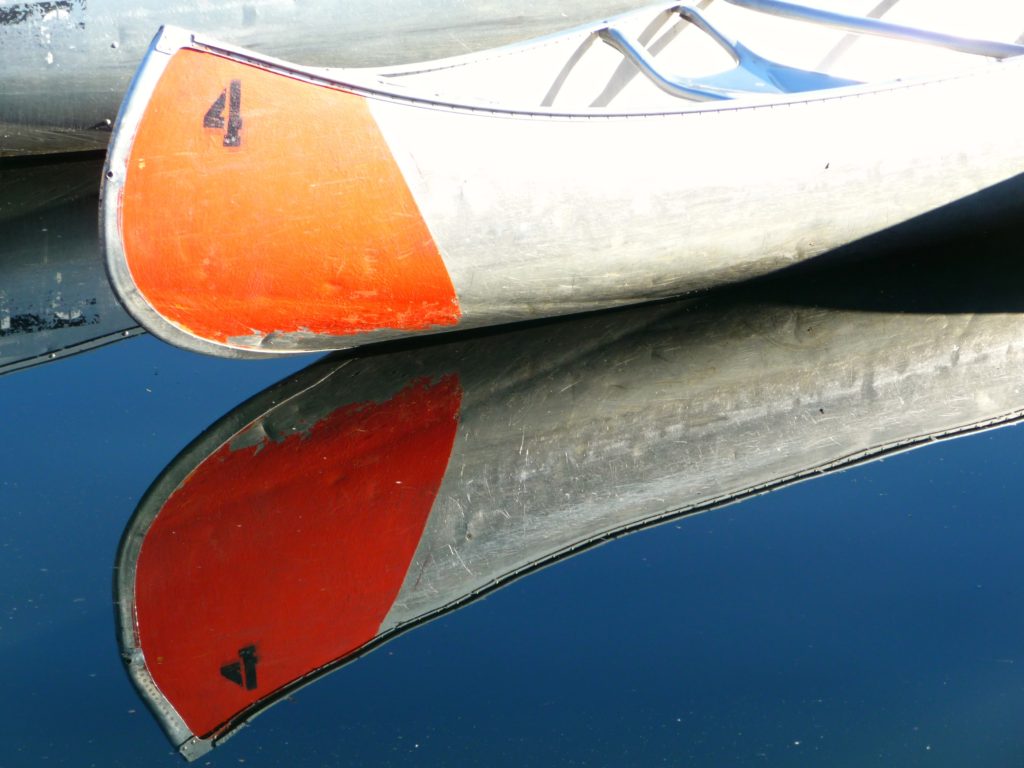 "With"
A couple of years ago my husband, our boys and I took a canoe trip in the Boundary Waters, a remote wilderness in northern Minnesota. We glided across the glinting lake, our paddles dipping rhythmically, the kids dangling their fingers in the water as we wove around lily pads and over golden lake grass, undulating like ribbons beneath the surface.
After about two hours of peaceful paddling, we turned the canoe around and were shocked to find ourselves nearly knocked flat by a gale-force wind. It took about 30 seconds for me to realize that the return trip was not going to be nearly as relaxing. Though I was paddling as hard as I could, I noticed the shore wasn't moving; we were literally paddling in place. As the lake frothed into whitecaps, water gushed over the bow, and the canoe threatened to turn broadside.
"Michelle! Michelle! " Brad yelled from the stern over the roaring wind. "You've got to paddle faster, paddle harder! The canoe has to stay against the waves, we can't get broadsided!"
The kids were terrified, and I was afraid, too (not sure about Brad; he doesn't let on in situations such as this). When I looked over my shoulder, Noah was clutching the sides of the canoe with a steely grip, his eyes wide. Meanwhile Rowan was screaming over and over, "We're all gonna die! We're all gonna die!"
I tried to console them. "No, no, no, everything's okay, we're going to be just fine, everything's going to be just fine, it's just a little choppy, that's all." The problem was, I couldn't speak soothingly in hushed tones in a 30 mph wind. As I screamed shrill reassurances, the kids only looked more terrified.
And that's when I prayed.
I admit, it was a combination of cursing and praying…but this is progress. A few years ago, it would have been all cursing.
When I wasn't blasting Brad in my head – "Stupid, stupid idea. Mr. Stupid Nature Man dragging us out here in this stupid wilderness…" I was praying, "Please God, please God, please don't let the canoe tip, please help us get to shore safely, please give me the strength to keep paddling, please keep my children safe."
We made it to shore; I lived to tell about it (and complain about it). And when it was all over, I realized two things. One: I was seriously lacking in upper body strength. And two, that regardless of whether I'd prayed or not on that roiling lake, God had been with us.
"I know the Lord is always with me," says Psalm 16:8. "I will not be shaken, for he is right beside me."

Sometimes I forget that I don't need to summon God for him to show up. In fact, God doesn't simply "show up" at all; he's not a fair-weather Lord, appearing just when he feels like it or only if I call on him. Instead, he is with me always, right here, whether I beg for his presence or forget about him altogether.
Amid violent waves or still waters, in a pitching canoe or on dry land, in the office, kitchen, backyard, waiting room, grocery store, whether I call on him or not – God accompanies me on every step of this journey. That he is always present with me, right beside me – small, inconsequential me – is nothing short of astounding.
For all 31 days post click here. For more of Michelle click here.
You may have noticed, this old blog has a new look, courtesy of Viva la Violette. For more on the lovely designer behind this beautiful blog makeover, click here!