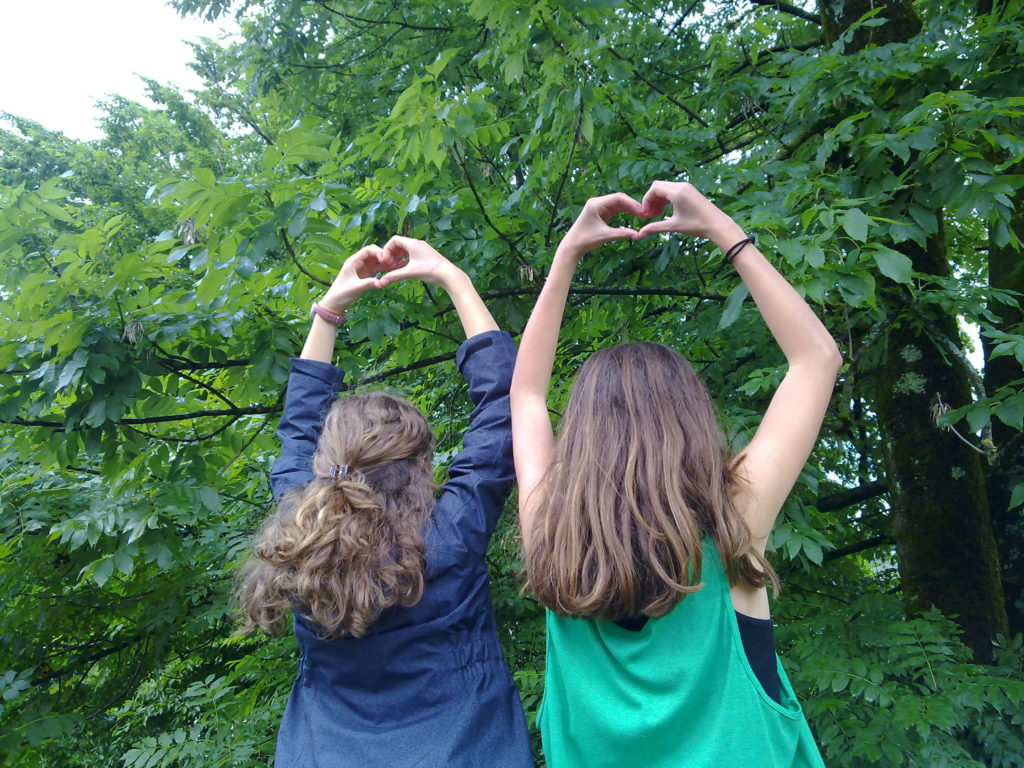 Thirteen is messing with me. All week, I've thought about my birthday girl and growing up. Memories of my teenage years have risen to the surface like cream, and I skim them from the top, only to find more rising from beneath. I remember it in extremes–love and hate, faith and fear, all answers and too few questions.
Emily Freeman, one of my very favorite writers, recently released her new book Graceful: Letting go of your try-hard life for teenage girls. This week she wrote a letter to her teenage self and asked others to join in. As thirteen winds its way into my thoughts and old memories return for a visit, I've read these letters and I've come undone. I feel as if my teenage heart sits outside the safety of my chest, full of tender hope surrounded by adult regret. I decided to write myself a letter to let the teenaged me know that hope will outlive regret almost every time. Except when orange eye shadow is involved.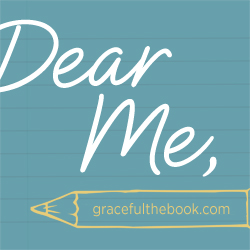 Dear Me at age 16,
When you're older, you'll want to live in regret. Don't. You'll think back to your hairstyle, aptly nicknamed "The Claw", and you'll wish all the photos were destroyed when the basement flooded. A friend will see them when he comes to help clean up the soggy mess and he will bend from the waist in laughter. You'll be embarrassed until you discover he wore footy pajamas sewn by his mother in college. Regret is relative.
You may want to re-think the orange eye shadow and the matchy-matchy outfits purchased at Strawbridges under Mom's watchful eye. And quitting the piano was a foolish mistake. You will make your future children pay for your decision by forcing them to take piano lessons for years. They will fill your home with complaints and the sound of pure joy set to sheet music. They will play more than one instrument, your home will be a cacophony of sound, and you will silently pat yourself on the back for turning regret into opportunity. You are still waiting for them to thank you.
When you grow up, you'll think a lot about the things you missed out on in your youth. You'll regret asking too few questions, and not seeking more answers. You'll wish you'd said no to more dates and yes to more friends. You will remember how you followed the rules instead of seeking the path to freedom, and you will try to wish this one regret away. You can't wish it away, but hold fast to hope, sweet girl. Because someday you'll know freedom and it won't look anything like you imagined. You'll find it in the unlikeliest places–on running paths and airplanes, in red letter words, and college-ruled pages.
You see everything in black and white at sixteen, but know this–you live real life in shades of gray. Begin to look for the gray, where hope rings the clouds with a silver lining. The only thing that looks good in black and white is your favorite striped sweater and words on the page of a book. Right now, you find yourself in these words every weekends, when you stay home and read instead of joining in the fun. Don't hide behind other people's words, write some of your own, and then go join the party. You will always love stories and people will live the best ones out in front of you.
When you're older, your sister will say she's a recovering pharisee, and you'll know you're one too. If there's one regret to hold on to , it's this one. It will help you and your plank-filled eye to love better and judge less.
Speaking of love, remember the boy from Ms. Kaiser's fifth grade class? The one who told you, at fourteen, he thought you would end up barefoot and pregnant? Resist the urge to hit him. He's right. You will end up barefoot and pregnant–with three of his babies. You will have to resist the urge to hit him and also acknowledge he is right for the rest of your life. And you'll never live to regret it.
Love and hope and few regrets,
Kimberly
I'm linking to Chatting at the Sky with my letter. Is there something you would like to say to your sixteen year old self? Won't you join?