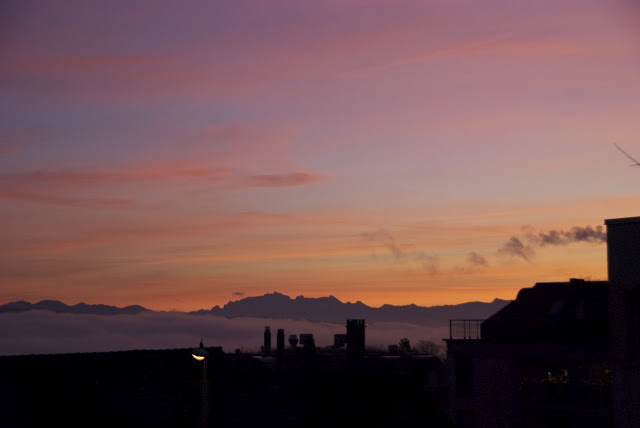 The day didn't start out well. Now that all of my children are sleeping steadily through the night without nightmares/toilet issues/scratchy throats, the dog has decided he would like his fair share of attention.
At 5:40 in the morning. 
After letting him outside to take care of business, I tried to fall back asleep, but the to-do list crept in like a thief, stealing the little bit of peace I was trying to patch together after the hoopla with the dog and my rising annoyance at my husband who suspiciously slept through it all.
I finally gave in and pulled myself from bed to hot beverage to Bible. I don't know what I read, although I vaguely remember copying down a scripture for later reflection. There was prayer, but it was a sad affair. 'Thanks for this day, and don't forget to email R's teacher, please give me guidance, and dang, I need to work on the Christmas photo books.' Add that to the ever growing list, all the while pretending that my focus was Him when, quite obviously, it was not. 
I swore at the dog, snapped at my kids and argued with my husband all before eight a.m. I took two minutes to run outside in my pyjamas and snap a photo of the sun rising over the mountains, a flaming silhouette. Then, I did some stuff and some things, and ticked a few boxes on the list I left sitting on top of my Bible.  I stared at my Charlie Brown Christmas tree willing it to grow by two feet, and contemplated not sending Christmas cards this year.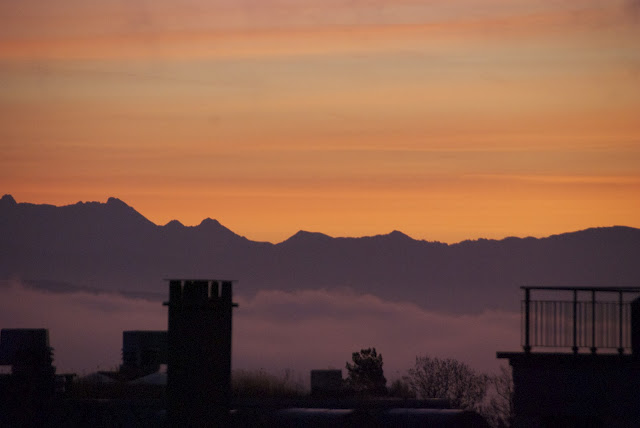 And while I went about a day made of lists, good girl intentions, and failed spiritual practices, I forgot all about how the sun gives it's glory to the mountains in the morning. Over lunch, I read LL Barkat's post for November 26 and I cried. Because she talked of enchantment, mystery, beauty, and how these are the things we can offer one another. She said that someone out there needs what she has to give, and I wondered if someone out there needs what I have to give too. Someone besides the dog.
Maybe you need these words. Maybe you need to know that you are not your to-do list, and that somedays the only prayer you can offer is a distracted one. Maybe you need the sunrise and a three minute ugly cry because someone met your hunger for more in the middle of your mess.
Late into the evening I find myself here, and with each word I feel a redemption of the day. It ends the way it begins. Sunlight and shadows. Enchanting.