The kids had a few days off school recently and we decided to brave chilly weather and some rather unfortunate attitudes and take a road trip to Germany. Our first stop was Neuschwanstein Castle. After a long drive, we were all a bit desperate to find a toilet. Due to a ridiculously complex system of parking, paying, and castle transport, three of us were able to make it to the toilet before climbing on board this fairytale horse and buggy ride.
Two of us were not. Unfortunately, it was the two of us with the least bladder control: the youngest and the one who's given birth three times. Let me tell you, that was no fairytale ride.
We arrived with 30 seconds to spare before our tour, prayed they had a working toilet (they did), and entered a fascinating world of color and storybook surprise. The kids decided to embrace the fairytale theme and brought their best impressions from the dark side. To which I was forced to channel my inner Wicked Witch, and say things like "You know, there are poor kids in Africa who would do anything to be in this castle right now".
Because that's what poor children wish for instead of a healthy meal…a castle in Germany with a cranky mother who needs to use the loo.
The castle is set like a jewel between evergreen and rock, and from every room the views made my breath catch. Stunning.
We had our fill of the castle, helped ourselves to bowls of goulash and fried cream cheese pastry balls, and piled back into the car for another hour's drive to Munich.
I wasn't sure what to expect, as so many of Germany's cities were destroyed in the war, but Munich has been beautifully and faithfully restored.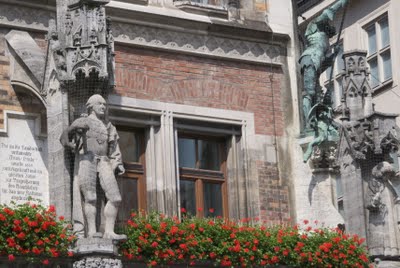 We took the kids to the Hofbrauhaus, a world famous biergarten, where it takes two hands to lift the beer stein. When we arrived the place was in comfortable chaos. Tables filled with food and frothy mugs, men in leiderhosen bustling by, and a traditional German band complete with accordion. We ate to the slamming of steins on wood and music floating on pretzel tinged air.
The next day, there was more bad-itudeness, so we doled out punishment in the form of an art museum. No fun, just art. Old art. I think it may have been one of the best punishments ever because too often when I'm punishing the kids, I'm also punishing myself.  The kids managed to find a bit of fun anyway. There is nothing like splashing water on a chilly day to inspire brotherly and sisterly affection.
Next stop: the USA….to be continued….
Kimberly