I thought I'd give the Gypsy Mama's Five Minute Friday another try. It's more challenging than I expected, but this week's prompt hit on a topic very close to my heart.
Here are the rules: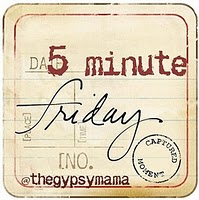 1. Write for 5 minutes flat – no editing, no over thinking, no backtracking.
2. Link back here and invite others to join in.
3. Get a little crazy with encouragement for the five minuter who linked up before you.
Prompt: Home
It's been many places over the years, and I think we've left a bit of ourselves in each place we've called home. I'm not exactly sure where home is anymore, but I do know this:
Home is where I understand the underlying meaning, where I can laugh at all the right places and nod to the cultural references.
Home is the terraced place in the middle of the big city where my son drew his first breath and fell asleep in his Mama's arms.
Home is where I struggle to make sense of the crazy that is a foreign language, and where I wake up to an Alpine view that would make God weep for the beauty of it.
Home is where my husband mows the lawn and I make babies, and we build a life and a family.
Home is here, right here, on this blog where you and I meet over a word or two.
Home is….
Head on over to Lisa-Jo's to read more.
Kimberly