I've been thinking a lot about words and what they mean, how they can heal the broken places. Words do that for me and writing is my exercise in healing and wholeness. In looking back, I know the times in my life that writing has been absent, have been the darkest. I don't mean dark in the painful, tragic sort of way. What I mean is, they have been the least illuminated. They are the times that are the least seen, the ones that are lived but not lived. 
Have you seen Rembrandt's The Presentation of Jesus in the Temple?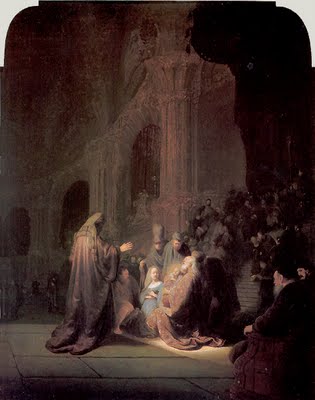 This is what words do for me. Where everything is obscured and dim around the edges, the words bring light to the thing that wants most to be seen. There is so much of life that wants, that needs, to be taken from the shadows and made luminous in the light. Things like the way my girl's voice dips and swirls when singing to an imaginary audience, or how my husband's hand looks when it holds mine, and especially what it is to believe that The Word, The true Word 'was made flesh and dwelt among us'. These are the things that require a re-telling, a way of seeing, that writing gives me.
What is your way of seeing? I'm curious.
Kimberly