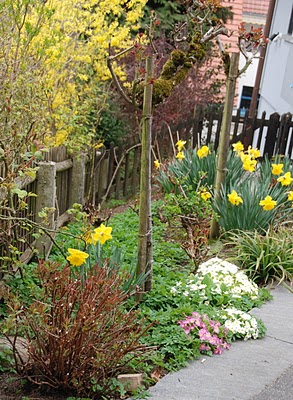 Spring is nearly here. The world seems to be falling apart bit by bit, and still forsythia blooms and my children wake up to sturdy, sunbathed walls.
Watching the nightly news is becoming an exercise in faith, and yet my life goes on much as it did before. For this I am so grateful, and though I come to this little place and talk about the everyday, my heart is full of bigger things too.
This spring will bring with it a few changes. Michael will be starting graduate school as well as working his usual hours. This will probably mean more travel and general craziness, but as usual we figure there is no time like the present.
I will be running the London Marathon in April, after which I suspect the sight of running shoes might send me shrieking into the corner. Two marathons in six months = moron. I think I'm going to have to wrestle this one into submission, and I'm not feeling so good about it. This is an example of 'no time like the present' gone horribly wrong. Learn from my mistakes, friends.
One of the kids will be going away for three days on a skiing trip to a well known Swiss resort, and one will be going to England on a week long sightseeing tour culminating in a West End show in London. Again, I might be found sobbing in the corner. This releasing them…it hurts and stretches this mama, but in the best way possible.
So we will stretch and aim and embrace new things because there's no time like the present.
Kimberly