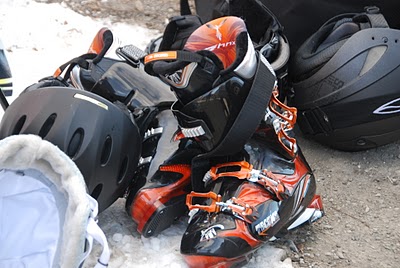 I'm so happy to be back in Zurich, in my little grey house with a view.  We arrived on Thursday after a flight that began with one child spilling an entire cup of juice on a sibling's seat and another child spiking a fever.  Note to self: do not travel without children's tylenol or another level headed adult.  The trip ended with one of our six suitcases losing a wheel and my son stating in a very calm voice usually reserved for wild animals and small children "Mom, I do not think you are setting a very good example for us."  Need I say more?
Michael remains in the US for another week of work, and I flew home with the kids and the aforementioned six fully loaded suitcases.  I spent the first day home unpacking and bemoaning the fact that I had no one to blame but myself for the obscene amount of things we brought back.  Michael has taken to calling himself 'Sugardaddy'.  As if my shopping spree wasn't born out of pure necessity.  As if Nestle chocolate chips and  Smashbox lipgloss were luxury items.  
I've spent today trying to combat jet lag and an impending sense of doom over my plans to take the kids (again without another level headed adult) for their first ski/boarding lessons tomorrow.  I will also be taking snowboarding lessons because I live in a fantasy world where I am perpetually twenty.  I have a feeling I might realize I'm not twenty, and that I am indeed an athletically challenged thirty-five year old.  Stay tuned.
Kimberly