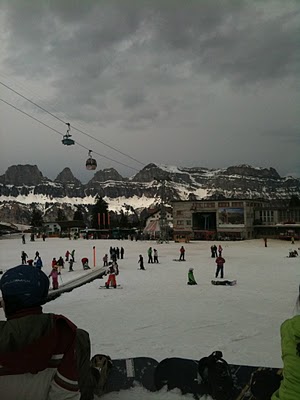 It seems we all survived our first experience ski/snowboarding in the Alps.  Of course we didn't make it off the bunny slope, but I still consider it a success in that no one was hurt and I spent only about three quarters of the time on my backside.  The story doesn't end there, as we get to do it all over again for another three Sundays.  Blessedly, I will have my better half available to assist me in the gear hauling and kid wrangling.
I've spent the better part of this week trying to walk as if everything didn't hurt and playing catch up from our three weeks away.  Between the Advil popping and laundry loads, I've tried (somewhat successfully) to set aside some time to think and pray about the year ahead.  I want to be intentional and purposeful with this year, and not live distracted and fractured.  So I find myself a bit lost in a pile of lists, papers and books. Lost in a good way. In a way that suggests I might not see the path clearly, but I am headed in the right direction.
What direction are you headed in this year?
Kimberly