"May your trails be crooked, winding, lonesome, dangerous leading to the most amazing view.  May your mountains rise into and above the clouds." ~ Edward Abbey
The views were beyond anything I have ever seen.  At nearly 6000 feet in the air, we could see peaks and valleys for miles, with villages spread out like a fan from the banks of Lake Zug and Lake Lucerne.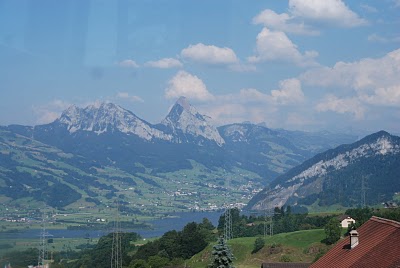 The villages thinned to pastureland with farmhouses dotting the landscape from the base of the mountain to the top.  Distant peaks were layered in snow behind the haze.  
The quiet at this altitude was amazing.  Ambient noise was no longer the hum of lawn mowers and passing cars, but instead the tinkle of cow bells and the soft murmur of bleating goats. 
I don't know that I've ever felt quite so small and yet…I felt enlarged too.  My heart was made bigger with knowing the thing that I've only guessed at before.  So few things in life live up to the expectation, but the summit was exactly what I hoped it would be, only better.  
It's a little bit like life isn't it?  Crooked and crazy trails do lead to the most amazing views.
Kimberly
More photos to come….