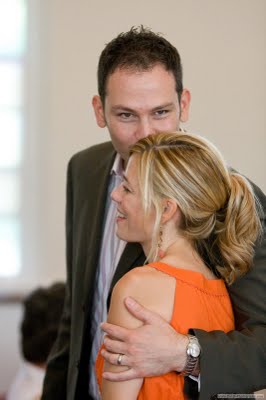 He is a man of grand gestures.  His motto is "Go big, or go home". There is nothing little about him, not his height or his heart.  He lives big and loves even bigger. 
I am on board with the grand gestures.  I've grown accustomed to his belief that "If some is good, then more is better", which comes in surprisingly handy when I've gone a little overboard at the mall.  But mostly, I like the small stuff, the little things that show me he pays attention.  His helping hand with the bedtime routine or the daily phone call between meetings.  
I've gotten used to the calls and the help, but there are days when he manages to take my breath away with the little things.  Saturday night he pulled me away from cleaning the kitchen with the offer to paint my nails.  He picked a shade and colored my heart with it.  Love looks like cotton candy pink.  With each stroke of color, he layered on his attention and tenderness.  He noticed me, he took my hand from it's work, and he layered me with his love.  It was a small thing, but an immeasurable gift.  
Kimberly  
Tuesday's Unwrapped are
Emily
's way of helping us take note of the small stuff, those gifts that we so often forget to celebrate.  Check out what everyone's talking about at
Chatting at the Sky
.