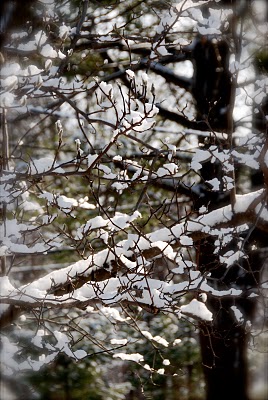 Part 1.  Read Part 2 here.
2009 was in a word…difficult.  There were moments of great beauty, of pleasure, of triumph, but overall it felt like a year of winter.
As we drove home from our New Year's getaway, I sat quietly and watched the landscape fly by my window.  I saw tree after tree, stripped bare, lying dormant without leaf or fruit. Some trees were straight, and others were crooked and gnarled.  Occasionally, I'd spot one with a bird's nest built high into the top, or nestled in the crook of the branches.  It's funny the things you notice without the camouflage of leaves.
This year, I have felt the Lord stripping me bare.  Revealing.  Removing the fig leaves that I've carefully sewn into place to cover my crookedness, to cover the nests that have been built, to cover the hidden things.  He has shown me what I have allowed to take up residence in my heart.  I have lived a year of winter, and it has been raw and revealing.
But, in His unending grace, He has not left me there.  In this New Year, I feel the coming spring.  I feel new life.  I am reminded that life never comes without the dying first.  That He has called me to take up my cross and die daily.
I remember too, the hidden work that lies beneath the soil, where the nourishment takes place.  My roots run deep.  I am firmly planted, even when all looks bare and gnarled on the outside.  God does the hidden work in the unseen deep, so that in my daily dying, I can bear good fruit.
This will be a year of good fruit.
"He shall be like a tree planted by the rivers of water that brings forth its fruit in its season. Whose leaf also shall not wither; and whatever he does shall prosper"  Psalm 1:3


Kimberly
Once again, I am linking up to Emily and friends over at Chatting at the Sky.  Hop on over for a look at other thoughts on the new year.