Wow, is it getting a little heavy here on the blog?  I don't know about you, but I feel the need to lighten the space a bit.  
This post
is a good start.  I'm having technical difficulties, so the photos of the New Year's Eve extravaganza will have to wait, as will a new header.  I am well aware that my blog has not been defrocked of it's Christmas apparel.  This annoys me greatly.
You know what doesn't annoy me?  Books.  And good television.  Two things that can not talk back, ask me to look at their poop, or in the case of my dog, eat their poop.  I am currently compiling a list of 2010's "to be read", and I need suggestions.
Tap, tap, is this thing on?  I'm calling for suggestions here.  Any and all are welcome.
And in return, I have a few suggestions for you.  If, like Bono, you believe that "Every sweet tooth needs just a little hit", I recommend that you hit it up with this piece of deliciousness courtesy of The Pioneer Woman.  My kids requested this Chocolate sheet cake for the holidays in lieu of Christmas cookies, and we were not disappointed. My skinny jeans were, but that sweet tooth?  He liked it just fine.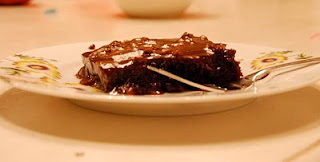 May I also suggest some classic viewing?  As in Masterpiece Classics on PBS.  I know, I am a dork.  I own it, as does my DVR.  This Sunday starts the new season of classics with host Laura Linney, and I am thrilled that it begins with a sequel to the fantastic mini-series "Cranford".
I would love to add a few book suggestions to the list for you, but I have been on a non-fiction kick at the moment.  It has come to my attention that most people are not interested in my non-fiction selections.  Frankly, I can't understand why everyone isn't fascinated with the life of Louisa May Alcott, but apparently they are not.
Don't forget to leave a comment on your favorite read.  I'm counting on it!
Kimberly