First Snow of the season today.  Big, beautiful flakes sticking just enough to make me happy.  I suppose I will have to get used to the idea of all snow all the time when we move to Switzerland.  Michael was there this week for the first big snowfall of their winter season.  He was warned not to tell me about the bitter cold, but decided to do so by sending this photo.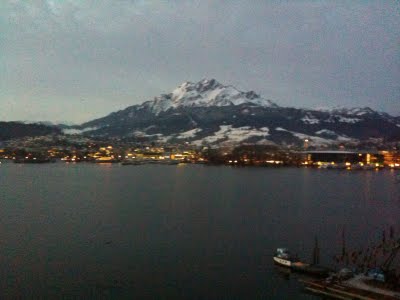 He further softened the arctic blow with bags of Swiss chocolate.  Well played, Michael.  Well played.
As the snow fell outside this afternoon, we warmed to the stage lights at Rachel's annual Christmas performance.  This show, her last before our move, was bittersweet.  When we return, she will be too old to participate.  If we return…
I don't know what the coming years will hold, but I've learned to be grateful for that.  Sometimes the not knowing is what helps one stare down the pain and embrace the joy.  I hope that as this year comes to a close, I'll be prepared to do both.  For now, I'm content to sit in the candlelight, watch dusk fall in with the snow and have a piece of chocolate.  Or three.
Kimberly