Fairy lights from morning 'til night
Fingertips in Dear Santa
Forgiveness
A daughter who believes that she will one day have three children that will be called Snowflake, Pink and Pixie Dust
Fresh starts
Peppermint Hot Chocolate
The Message
Being married to a man who understands why these boots complete me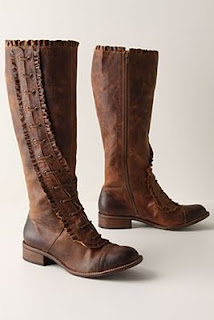 And this quote:
"The best moments in reading are when you come across something – a thought, a feeling, a way of looking at things – that you'd thought special, particular to you. And here it is, set down by someone else, a person you've never met, maybe even someone long dead. And it's as if a hand has come out, and taken yours." –The History Boys
Shall we then take ruby adorned hands, grab our mugs of melted goodness, and think on new beginnings beneath the tree lit by the light of fairies?  I believe Snowflake and Pixie Dust would have it no other way.
 Kimberly
Boots courtesy of my man and anthropologie.  I heart you both.