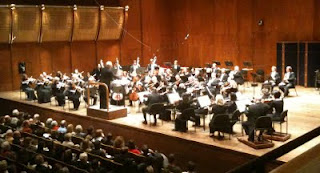 "God comes to us in theater in the way we communicate with each other, whether it be a symphony orchestra, or a wonderful ballet, or a beautiful painting, or a play.  It's a way of expressing our humanity."
~Julie Harris
The symphony was wonderful.  Music spilled out and sent heavenward, as a prayer.
We were pleasantly surprised by the baritone and soprano joining the musicians in the last work, a Lyric Symphony. They sang the words of a Bengali poet, in German, which was then translated for us into English.  Songs of desire, love, and loss… humanity expressed.
And God came and met us there.
Kimberly