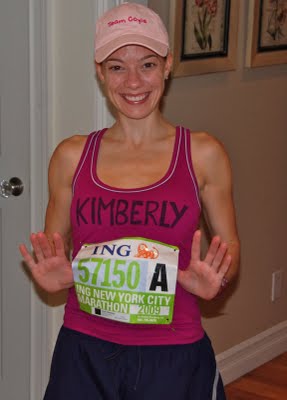 I can tell you that never in my entire life would I have imagined myself in a photo like this one. Race bib on, name scrawled on chest, smiling face. Never.
May I remind you that:
1. I do not like to exercise
2. I do not like pain
3. I spent the better part of my childhood avoiding all forms of sport.
Cue the Rocky theme….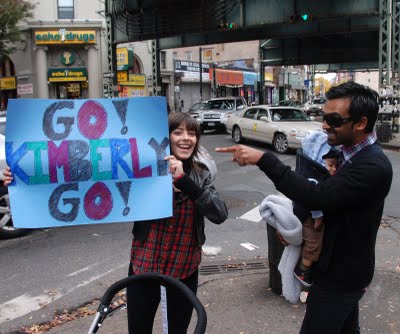 After five months of training, my friend Mike and I took to the streets of New York City and ran the ING marathon yesterday in 4hours and 56mins.
That included 42,000 runners, 26.2 miles, 23 water stations, five boroughs, 3 porta potty stops, 2 energy gels, and one bum knee.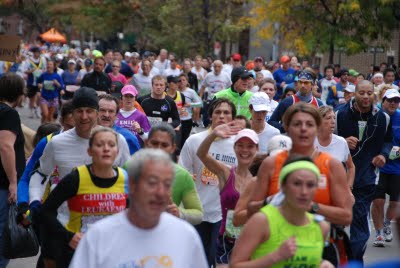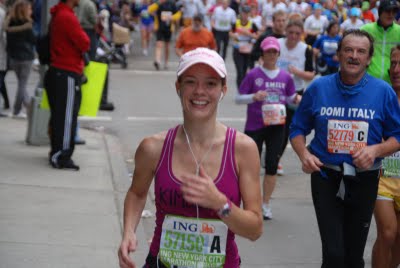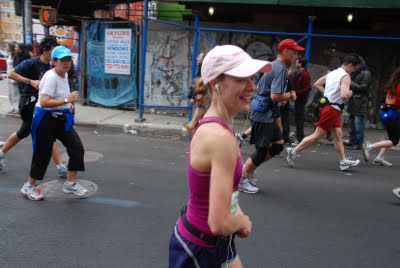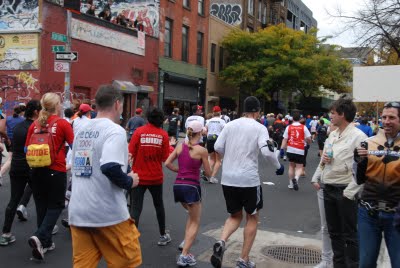 The photos above were taken at mile 11, which would explain why there was still a smile on my face. If Michael had caught me at mile 18, I looked a little more like death warmed over.
Biggest Surprise of the day: The kindness and camaraderie of strangers. The New Yorker on his front stoop who yelled "Keep going Kimberly, looking good!", the homeless woman cheering at the sidelines, the blind runner and his guide running ahead of me, two men propping up an elderly man by his shoulders to reach the finish line. And smile after smile by the volunteers offering water and heart.
Biggest Downer of the day: Being beaten by a 70 year old at least a foot shorter than me. Or being beaten by these yahoos in costume. Seriously. What you don't see here is the runner wearing an ostrich costume fashioned out of an inner tube. We all saw you sir, and it was demoralizing when you ran past us. In an inner tube.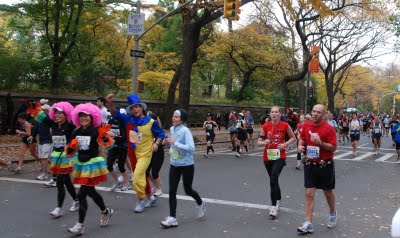 Worst part of the day: Central park and that dang hill at mile 23. Nearly killed me.
Best part of the day: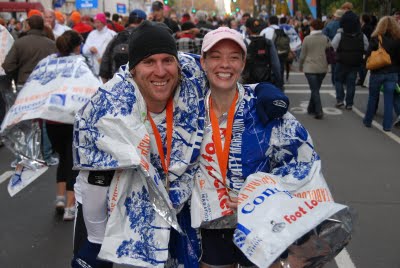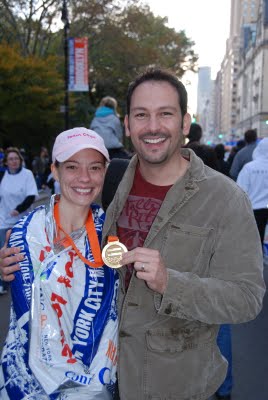 This guy earned that medal as much as I did, for every early Saturday morning that I spent running and he spent with the kids, for forking over serious cash for my doctor's visits, and for listening to my every complaint without a single one of his own. This one is for us.
Kimberly