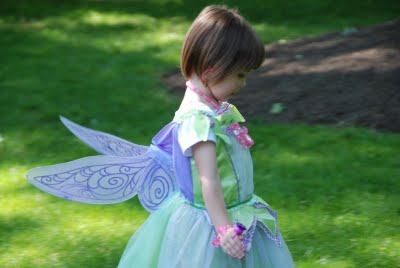 My youngest daughter is fascinated with the Barbie movies. If you have a little girl, then you know exactly which movies I'm referring to. Each one is filled with beauty and love, adventure and magic. They are a glittery pink fantasy, and truth be told I adore them too.
We watch them frequently in our house, and this morning was no exception. Sophie and I enjoyed
Barbie and the Diamond Castle
, and as I sat with her I was thinking of what draws me in. Myth and fantasy are an everyday sort of thing for most kids, but magic and fairytales were not a part of my experience as a child. I had a childhood that was deeply rooted in reality. Now as I experience fantasy through the eyes of a grown woman, I have the heart of a little girl who's never believed a beauty could fight a magical battle against an evil force and win.
The more I watch these movies, the more I begin to believe. I believe that there is a mystery beyond what I can understand. There is magic in the ordinary if we look closely enough. The beauty can clothe herself in truth, take up a sword that speaks, and fight a winning battle. I believe that rocks may cry out, trees can clap their hands, a donkey may speak and a burning bush can be holy.
The unknown is dark and deep, a profound mystery of the Spirit. I know that Spirit moves on the flesh and mysteries and miracles result. They are all one. Fact and fiction, Spirit and flesh, miracle and mystery. Now, when I see a kiss turn a life upside down, an evil dragon defeated, or a beauty clothe herself in a magic gown, I believe.
Kimberly
Today I'm linking up to
Chatting at the Sky
for Tuesday's Unwrapped. I found something extraordinary in the ordinary today. What did you find?