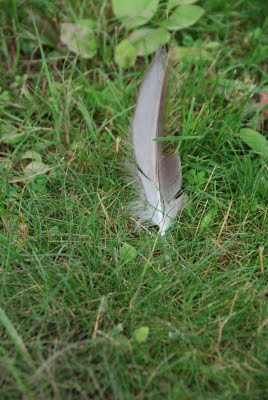 "Hope is the thing with feathers, that perches in the soul, and sings the tune–without the words, and never stops at all."
This is my favorite quote by Emily Dickinson. I love that there is a poem about hope and feathers and never ceasing. I have it posted near my kitchen sink, so that I can be reminded of it daily. I've been thinking about hope a lot lately. I wanted to write a joyful, encouraging post about hope, and in fact I did write one like that, but in the end I felt like it just didn't ring true.
I wrote about hope soaring, hope in the face of adversity, hope as courage not fear. But as I wrote, I felt a conviction that I was saying all of the right things, but not necessarily the real ones. My reality is this..I have hope, but I am still fearful. I have hope, but it's never been tested by sorrow. I have hope, but it rarely soars. I have hope, but it is just a little sparrow with feathers, perched tentatively, ready to take flight at a moment's notice.
My hope is not that I can avoid suffering and sorrow. I know I can not. I know perfect love cast out all fear, but also that fear can threaten to undo me. I know who I am meant to be in Christ, and I know that I'm broken and fallen. But, I also know this, and this is what rings true….
I have hope.
Even if there are no words to the tune, if hope is as small as a sparrow, or if it threatens to take flight. I have hope that God will meet me in the suffering and the fear and the doubt. He will meet me there, and He will speak the Words that hope cannot speak. And the Words and the tune will never stop.
Kimberly
I'm linking up to
(in)courage
with this post. I mentioned their website a few posts ago, and really encourage you to check it out. The theme for the month of September is hope, and who can't use a little more of that?