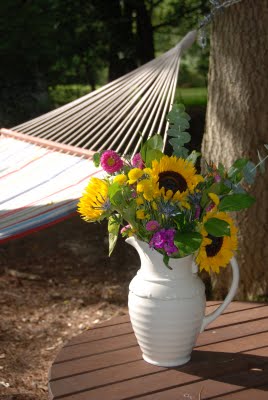 We're enjoying the last bits of sun and summer here at teamcoyle. I love sunflowers in September. It's my last colorful hurrah before we usher in the days of mums, pumpkins and fallen leaves.
This last week of summer is a busy one, with birthday parties, open house, a 5K and a big Labor Day bash to round it all out. I am so looking forward to the routine and regularity of the school schedule. There is something about the sameness and the expected that is so comforting to me.
But, as with all things in life, there will be a dash of the unexpected this fall as well. Hold onto your chairs dear readers, because it appears that I will be earnestly endeavoring to begin cooking hearty, healthy meals this autumn. One can not live on Panera alone. I also plan to learn how to knit, so the Senior citizens and I will have something to discuss at the public library. And, it appears I will be immersing myself in a crash course en francais. By season's end I shall be a French speaking, scarf knitting, chef de cuisine.
Avec l'amour,
Kimberly