"Delicious Autumn! My very soul is wedded to it, and if I were a bird I would fly about the earth seeking the successive autumns."
~George Eliot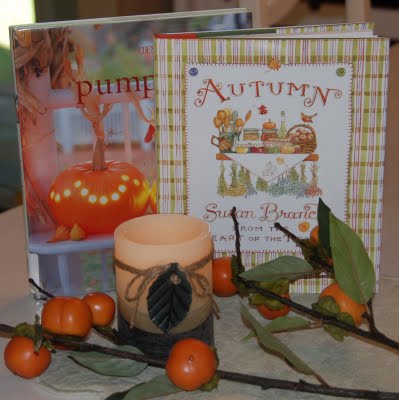 I ran on leaf and feather strewn paths yesterday. The air had that early morning chill and it smelled like autumn. I noticed a few trees at the very start of their turning and it simply made me happy.
I love autumn more than any other season. I love long, hot baths, cozying up under a blanket with a book, the smell of a wood burning fire, renewing routines, and the riot of color in my backyard. I love lighting candles early in the evening, the smell of cinnamon and spice, wearing my hair down, and pulling on my sweaters and boots. I love the coziness and homeyness and the sound of acorns dropping onto the deck below.
There are other things I love about autumn too. I love the descent into decay, the stripping bare of branches, the melancholy feeling it always inspires. There's a certain sadness to autumn that sits well with me. I too feel the stripping bare, the inevitable change, the dying of self. But, like autumn, I stoke the fires and light the candles, and I let the scent of my sacrifice be a pleasing one.
Autumn leaves me with a knot in my stomach, but I have found that the best things in life are like that. It is cozy comfort but it is cool change. It is beautiful but it is burial. Autumn simply put, is complicated. But then again, so am I.
Kimberly