On Tuesdays, Emily at Chatting at the Sky usually writes a post about the small gift or special moment she's found in the middle of an otherwise ordinary Tuesday. She calls it "Tuesdays Unwrapped", and if you've been reading my blog for a while, you know that I've been taking part in it too.
Emily has encouraged us to look for the things in our day that get lost in the busyness of life. I especially needed the reminder today. Our holiday weekend was full of many hours spent on labor intensive gardening, a day of volunteering, a long drive (the highlight of the weekend:)) and three sick kids. I wouldn't exactly call it relaxing. Today, I'm trying to catch up on all of the ordinary business of running a house while the the three year old taunts the nine year old, the nine year old tries to beat a three day fever, and the seven year old interrupts me more than once to tell me that the Wii fit game is "mean". It's an ordinary day.
But as I was pulling out of the driveway on the school run, I spotted the first of the knockout roses. And as I washed the dishes, the bright and bulging buds of my peonies caught my eye through the window. When I took out the recycling, I noticed my sweet little sunshine daisies swaying in a pot by the door. So I grabbed a few of each and put them in a vase in the bathroom. I looked at them when I washed the bathroom floor, and saw them again through the crack in the door as I vacuumed the hall. They made me smile every time, and I thought to myself, how much beauty do I miss in the mundane? How many bright smiles and peals of laughter and beautiful views and flashes of color and moments of brilliance do I miss?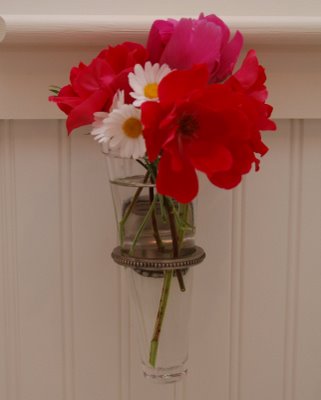 I don't know about you, but I don't want to miss a thing. I want to live my life unwrapped.
Kimberly