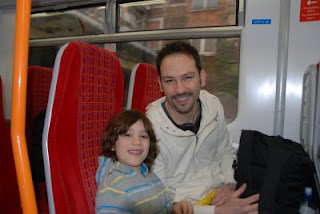 Day two we decided to hit the rails and take the train into London Waterloo for a day in the city. I've never been able to look at Waterloo Station the same after seeing the third Bourne film. There is an amazing chase scene set in this very busy station, and it made me wonder what sort of espionage and intrigue was going on behind the scenes here. I kept looking over my shoulder for Matt Damon. Michael and E on the other hand were more concerned with getting coffee and a cookie.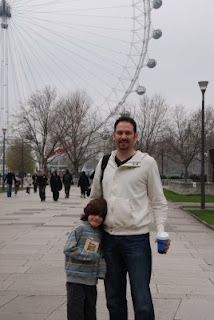 We made our way here to the London Eye, which is a sort of massive ferris wheel that gives a panoramic view of the city. It was our first time to ride it, and my friend Tara was kind enough to warn me against it before I left. Apparently, some folks got stuck at the top for something like 11 hours. She stressed that they had to use the bathroom in the car. (P.S. There is no bathroom in the car.) She was just playing on one of my worst fears, which was just cruel. Jealousy doesn't become you, Tara!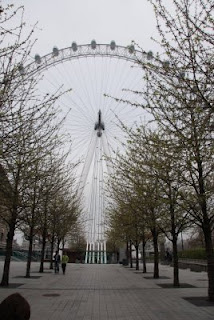 The view was amazing, but unfortunately the weather didn't cooperate as it was quite a hazy day. We made out most of the important attractions and buildings, and E was completely in awe of the entire experience.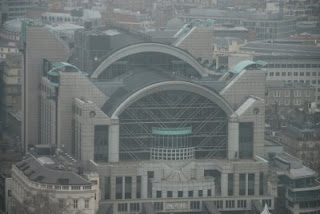 Here's a view that brought tears to my eyes, literally. This is Michael's former building where he went to work every day when we lived in London. Now, he works in the middle of NJ and routinely sees deer and wild turkey walk by his office window. It's a night and day turnabout, and to be honest I just don't know how he was able to give it all up.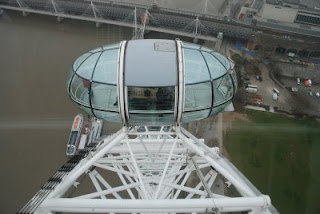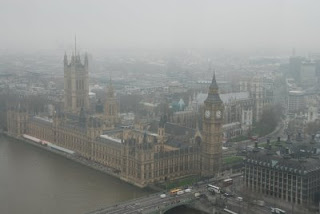 A hazy view of Big Ben and Parliament. So beautiful.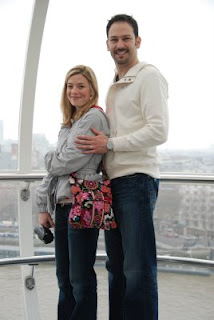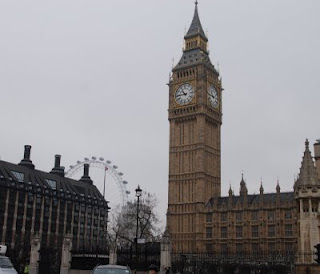 This photo from the ground says it all. The respect for the old while embracing the new is what I love about this city.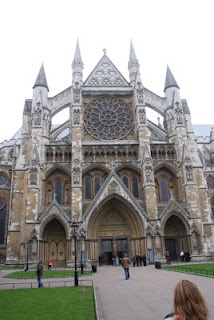 Westminster Abbey. No photos allowed inside, so this is one of the few shots we have. E completed a "scavenger hunt" for kids in the Abbey, which culminated in his hands full with a chocolate prize and his eyes full of wonder. We wandered among ancient tombs and relics, a corner of poets and masters of the English word, and the coronation chair which has been the seat of royalty. We drank it in. I love that my son has learned lessons of history with his eyes and his hands instead of from a desk in a classroom. He's seen it, he's touched it, and I know he's richer for it.
The Abbey remains a working church, so Michael and I took the kids there one Christmas morning for services. Sitting in a place of such ancient splendor and significance, and then hearing the Truth, the Living Word come to life, spoken over us was an incredibly moving experience. I felt God there.
So, a day of making new memories and remembering old ones. I needed tissues on the way home. We'll pick up here in a day or so. Have a wonderful Easter!
Kimberly