"Whoever has this world's goods, and sees his brother in need, and shuts up his heart from him, how does the love of God abide in him?" 1John 3:17
What does helping a brother in need look like? It looks like the smile on this child's face. It looks like water.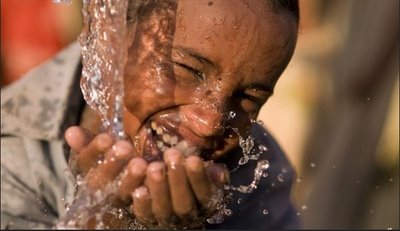 I'm so proud to be a part of a church that cares about the things that God cares about. I'm so proud to be able to help change a child's life. I'm especially proud that my kids are changed too. They see this photo and know that because our church has not shut up it's heart from those in need, there are kids in twenty remote Ethiopian villages who have clean water to drink. When
Liquid Church
set out to build three fresh water wells in Africa, we had no idea that we would actually raise enough money to build 20!!! Our members saw our African brothers in need. They saw that this was a chance to give out of our incredible abundance here in America, and they believe that God's love looks like water for a thirsty world. For the full story, or to learn about our latest love challenge, check out
Liquid Church
online. I promise it won't just change the life of the child you help, but it will change yours too.
Kimberly