I know you've all been waiting on pins and needles for the rest of our photos on London. Oh, you haven't? To be fair, I'm quite anxious to be done with them as well. I have other exciting things to share, like how I went to Target and Costco this week. And then I went to the supermarket, and let's not forget the drug store. I jest, that's next week. This week we've had a busy Spring Break, with all of the kids home from school. Michael had mercy on me and took a few days off to hang out with us. I'll share those photos tomorrow. But, for now, on to LONDON!
I'm going to try to squeeze a lot into this post, so if it's seems slightly random and haphazard, it is!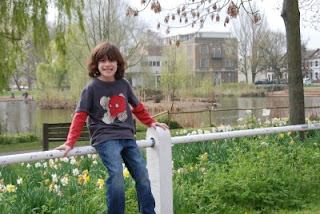 We started out today, Ethan's birthday, with a little tour around Barnes. As I mentioned here, this is our little corner of southwest London. Ethan is posing in front of Barnes Pond, the site of many walks, croissants in the sun, and the occasional chase by errant geese.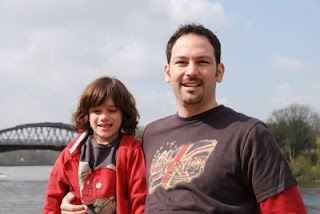 My boys with a view of the Thames and Barnes Bridge.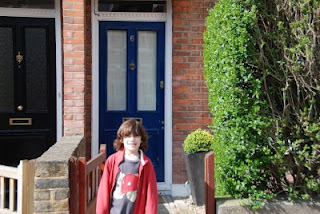 The Birthday boy in front of the home where he was born on a beautiful sunny April morning. I had him at home with the aid of the sweetest Australian midwife. What possessed me to have a home birth without the help of pain medication like the good Lord intended? Sheer stupidity, I mean pride:) I just wanted to see if I could do it. Good news is, I could!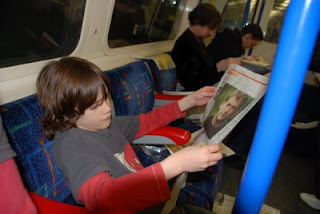 After a short tour of Barnes, we took the tube into central London. Like every good Londoner, my boy enjoyed the paper on the trip in. It's the only way to do it respectably. You certainly wouldn't consider talking to anyone on the train.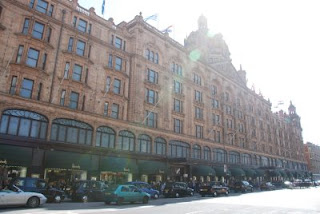 Our destination: Harrods. It's big, it's beautiful, and it's filled with the most ridiculously overpriced merchandise. Shop at your own risk. However, it does have the most amazing food halls, filled with every kind of delicacy you can imagine. We grabbed a bag full of sandwiches and drinks and headed here: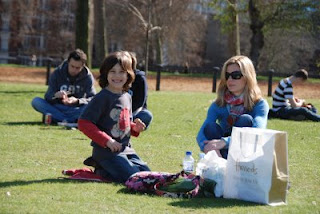 Hyde Park. My second favorite spot in London, after the National Gallery. It is the best place for people watching, which is exactly what we did while we enjoyed our Harrods sandwiches.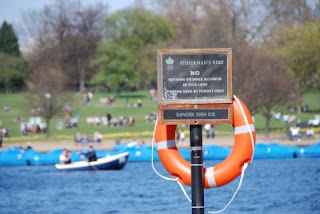 Rumor has it there is a swim club that dives into these waters every weekend throughout the entire winter. God bless them. I have a thing about being cold and wet. Neither one agrees with me.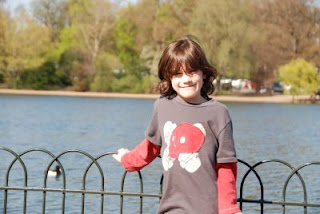 Ethan soaking up the sun and beauty of the park. His little feet have never seen so much walking.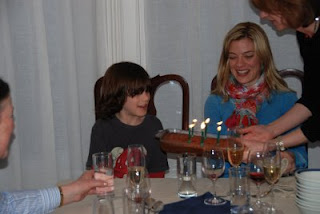 Back to Barnes to celebrate with our incredibly generous hosts, the Dixon's. They truly are the kindest, loveliest, wisest friends we've ever been blessed to have. I shouldn't call them friends because really, they're just family. Karen made a pan of brownies per Ethan's request with a side of cookie dough ice cream.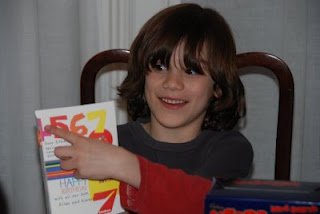 There were cards and gifts, most notably a chocolate egg the size of Ethan's head. He loved it!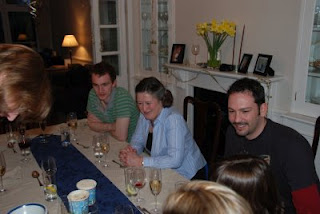 The guest list included us, the Dixon's, their daughter Katherine and her fiance Luke, and a wonderful suprise guest in the form of our former Pastors John and Ellie. They spoke into our lives weekly for almost four years, so what a pleasure to see them again!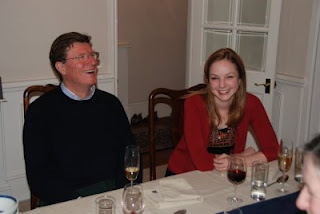 What a full and fulfilling day. Old friends, old haunts, a new year to celebrate. And one huge chocolate egg.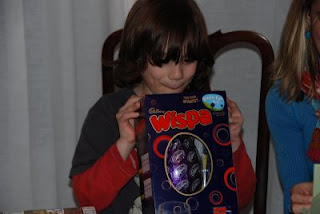 Kimberly