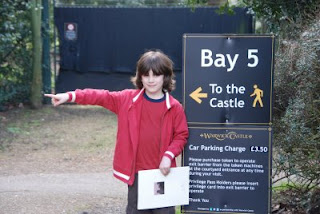 You'll be glad to know that I will only post photos of the castle and Shakespeare's home, and not my "6 Pack" of underwear that Michael so graciously bought for me on the airline's dime. At this point in time I was fairly certain that someone in Mexico was wearing my clothing and really enjoying that gorgeous scarf I bought at Lucky.
On our first day out, we hired a car and drove to Warwick and Stratford upon Avon. I only feared for my life a few times as Michael adjusted to driving on the opposite side of the road again. He did surprisingly well considering it's been a few years.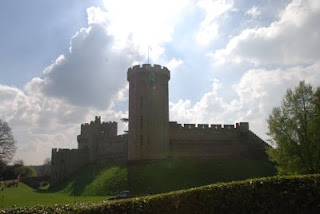 Our first view of Warwick Castle. Amazing isn't it? E was so excited to be visiting a real castle. I would say that it was the highlight of his trip. It was imposing and mysterious and beautiful all at once.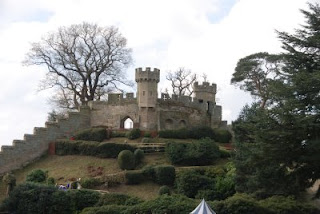 After a day of climbing in, out and around these grounds and turrets, E thought it was funny to run ahead and mock my slow ascent. I did try to blame it on my bum foot, but he was having none of that.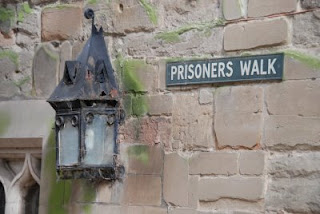 I wonder how many men have walked this walk? What did they see and hear and what stones did their hands touch?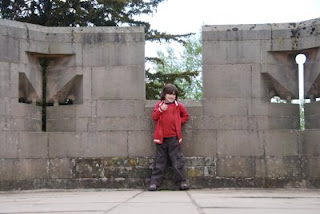 The boy has no fear! He loved climbing the many, many spiral stairs to reach the top turret.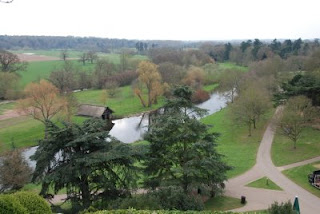 View from the top. I think Warwick has some of the most beautiful gardens I've ever seen. They were designed by Capability Brown to complement the River Avon which flows through the grounds.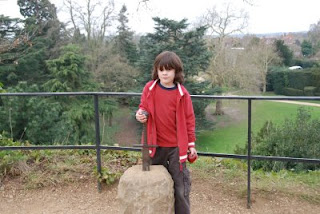 The Sword in the Stone. I have no idea what the significance of this is. I just liked the photo. As you can imagine I am seriously editing the number of photos we took here. This post would be never ending if I included them all!
After conquering the castle, we took the short drive to Stratford to visit William Shakespeare's birthplace. Stratford is a sweet little touristy village with lots of shops and cafes, so even though we were all flagging a bit, the idea of afternoon tea in a nice cafe kept us going.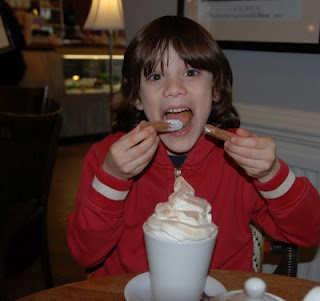 Or in E's case, a hot chocolate as big as his head.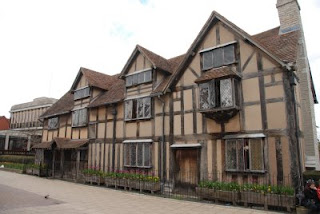 Shakespeare's Birthplace, amazingly restored.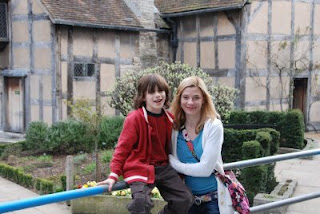 In the gardens.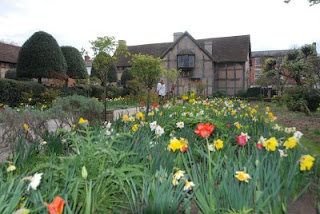 E's take on Shakespeare's home? "Great House". I'm impressed that he was able to muster that much enthusiasm because, let's be honest, what seven year old is familiar with Shakespeare?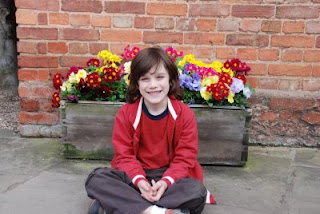 Still smiling. This was after we promised him some new clothes and a toothbrush. So ends our first day of sightseeing. After this, we spent the next few hours heckling the airlines via cell phone and looking for shops that remain open past 6pm. This continues to be a problem in England. Convenience is not high on Britain's to-do list.
Tomorrow, London!
Kimberly