"Expectancy is the atmosphere for miracles."
Edwin Louis Cole
Saturday was such a lovely day. There were no plans on the calendar, no errands to run, nothing pressing for attention. The kids were happily occupied playing games, Michael was resting and I had moment upon moment of time to read and watch and think.
Do you ever have days like that? Where you wake up to the normal every day life you left behind in your sleep, and instead of the usual, find that in the dark hours of the night a quietly hopeful air of expectancy has settled in? I felt that way Saturday. Hopefully expectant. I'm not sure what I'm expecting exactly. But I know it's right there around the next bend waiting to greet me with a cheery "Hallo, there you are! I've been waiting for you!"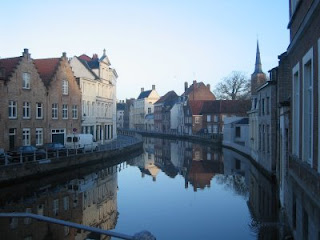 So for now, I'll sip my french vanilla tea and digest the words and embrace the feeling of this atmosphere for miracles. All the while waiting.
Kimberly
Photo taken in Bruge, Belgium 2004