You had to know I would post again about my upcoming trip to London. One week from today, I will be back in my little corner of London called Barnes. Try saying it with an English accent. It sounds so much more sophisticated.
Shall I take you on a little tour? Why don't we begin by taking a walk along the Thames towards Barnes High Street. I love this little stretch of the river. A few days from now, it will be overcrowded with people cheering on either Oxford or Cambridge in the yearly Boat Race. They finish this historic race about one mile up the river from this spot.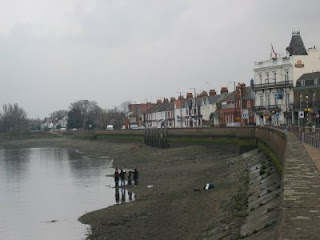 Why don't we take a turn down the High Street and head towards Barnes Pond. We'll pass the cheese shop and the butcher along the way. The butcher once asked me if I needed to call my "boss" to ask her what cut of meat I needed for dinner. At my look of utter confusion, he then realized that I was not the nanny of the two tots hanging on to me, but instead the mother of these two monkeys. I also clearly had no business being in a butcher's shop. What cut of meat? Was he kidding me?

Lovely view! Oh, and there across the street is my favorite cafe. Shall we stop in for a nice hot cup of tea and a croissant? I promise you they are the best in London. And look, they saved us a seat outside. Don't fail to take notice of the car on the right with the big "L" on top. This car has some poor terrified driving school student at the wheel. I know this because I was once that terrified student. That is a story for another day, but I guarantee it will make you laugh!

I'm feeling better now, how about you? I suppose we should be getting on. Why don't we catch the bus instead of attempting the long walk back home? Americans aren't made for walking, and it looks like it might rain. Let's hop off here near Barnes bridge. This is where the British Rail comes into a tiny platform station a few streets from ours. Michael is well aquainted with this station.

We're almost there! And lucky us, it didn't rain after all. Here we are coming up to the round about. Mind where you walk, and don't forget that cars are coming from the opposite direction than you are accustomed!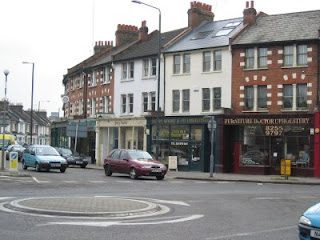 And here we are! First Avenue, Barnes, London. Such a beautiful street, full of pastel colored terraced homes, packed tightly along these narrow streets. You can see why we decided not to drive today. Not a parking spot in sight. I spent countless hours circling the block looking for a spot on grocery day. Usually I had to unload in the middle of the street, park one street over, carry whichever child was with me a block, only to find the spot directly in front of my house now vacant. Oh, the madness! I have also played bumper cars with many of the fine cars in this photo. Don't judge me, you don't know what it's like.

Just a short walk up the street and we've arrived! Welcome to our (former) home! Rachel will you show us in? Can we find time for another cup of tea?
I think that brings our little tour of Barnes to a close. Did you enjoy it? Did you attempt the accent? C'mon, I know you did!