Guess who came to visit this week?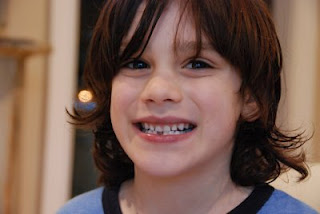 The tooth fairy left E a few bucks for his trip. She must have forgotten that they don't take dollars in England. I'm also not sure if she adjusted for the exchange rate. We might need to have a chat next time she comes for a visit.
Things may be a little quiet on the blog for the next few days. I think my access to the computer will be limited. I also suspect that I'll be ready to collapse from utter exhaustion after our days sightseeing. I've seen M's itinerary and it's, how shall I say it, "ambitious". Just like my man.
My mom is staying with the girls while we're gone, God bless her. She gets an extra crown in heaven for this one. Not because the girls are so difficult, but because our heating decided to go just this morning. I think I just saw mom head to bed with her coat on. And if you know my mother, you know that I'm not kidding.
I'll be sure to say hello to President Obama while I'm away in London. (or President Nuvama as S likes to call him). Apparently the G20 Summit takes precedent over my travel plans. The nerve.
Until next time,
Kimberly