Momma went shopping online, and now has a big, fat bill to pay. However, it is Friday Favorite time, and I wanted to pass along one of my best/worst finds. (It all depends on how you look at it.)
Boden has the most adorable and well constructed clothes I've ever found for kids. I'm not going to sugar coat it, they are expensive, but in my humble opinion so worth it. My husband, chief bill payer, may beg to differ. But really, who could resist a three year old in these: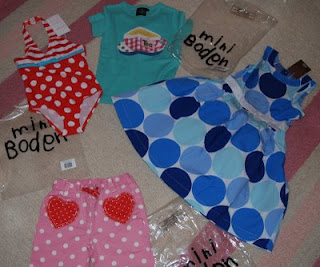 On the upside, Mini Boden clothes can definitely make it through more than one kid, and have great resale value on ebay. It helps justify the purchase. On the downside, I don't have another kid to pass these along to, so that rationalization doesn't really work for me. They also have really cute boys clothing. (I haven't received that shipment yet!)
If that's not convincing enough, here's what Sophie has to say "Omigosh, omigosh, this is soooo lovely!" My daughter calls her clothing "lovely". Yes sweetie, that lovely shirt nearly cost daddy an entire paycheck. But, as we all know, our bank accounts must suffer for beauty.
Pour yourself a cup of :