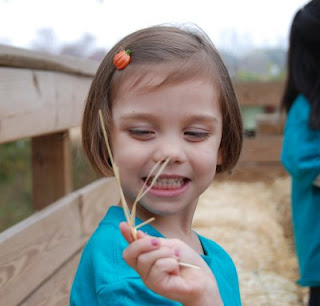 Last week S and I took a class trip to a local farm for a hayride and pumpkin picking. This was followed by a hay maze (I think I've already made my feelings about mazes clear here). This maze, however, was only shoulder height on me, so I felt comfortable giving it a try. S thought it was hilarious to hide from me and refuse to answer when I called her name. This was reminiscent of every shopping trip I've ever taken her on. Please note the pumpkin hair clip. She will thank me for being appropriately themed when she's older, I'm sure of it.
Back to the pumpkins. It was a wonderful fall-ish, harvesty day complete with a misty ride in the hay beneath a shower of red and gold leaves.
We wound through flower fields and apple orchards and then disembarked at The Patch.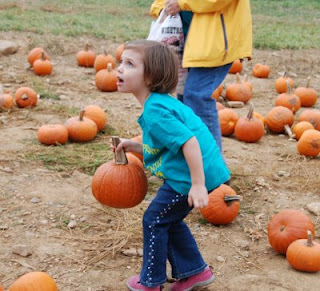 S and I each carried away a "just right" sized pumpkin, and then we filled ourselves on a treat of homemade donuts and apple cider.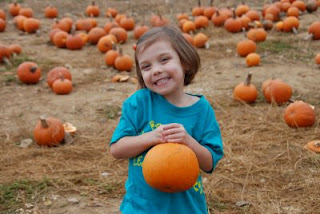 It was a perfect day. Except for that dang maze.