When I lived in England, I started collecting old things. My small part of Southwest London was filled with sweet antique shops and quirky second hand stores, where you could find me rummaging at least twice weekly. I learned about car boot sales, and charity shops, and most importantly Lot's Road Auctions in Chelsea. Michael and I went to London with next to nothing, and came back with an entire houseful of my finds. I LOVED it! I have most of it on display in various corners of my home here in NJ. It's taken me a while to find a few antique shops here that I like to visit, but the other day I had a bit of free time, and decided to make a quick stop. Here are a few pics of the treasures I found.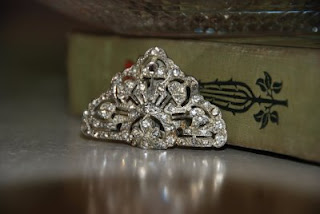 I love this lone shoe clip. I placed it on a ribbon around a lamp on my desk. I'm sure the woman who owned this never imagined that it would end up on someone's lamp someday.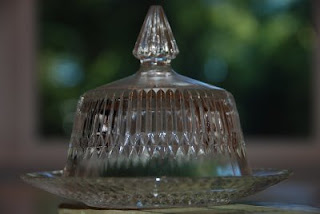 A lovely vintage butter dish. I don't actually use butter, but on the off chance that I do someday, I'll be prepared:)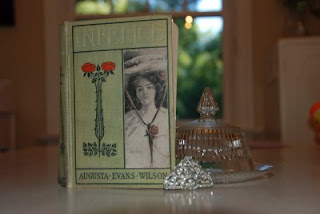 Isn't this book sweet? It's called Infelice and was published in 1903. I like to collect old books and display them, and I plan on reading them when I can whittle my own book list down a bit. My idea of heaven is a library filled with old dusty, faded books with crumbling pages, and my idea of the best gift ever would be an early edition of Little Women. I don't suppose I'm likely to find that in the antique shops I frequent!
I hope to have more treasures to share soon.
Kimberly