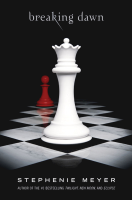 Books about vampires and such are a bit of a departure from my usual reading selections, but I am absolutely ADDICTED to Stephenie Meyer's Twilight series.  I just finished Breaking Dawn (the last one) a few days ago, and I am despondent.   This series is top of my list for the most exciting and romantic storytelling I've read in ages.
Michael actually went out at midnight to purchase Breaking Dawn because it was released at 12:01 am.  He said he was in line at Borders with a bunch of teenage girls and their mothers wearing "We love Edward" t-shirts.  Can you see it?  Hilarious!   I guess this makes up for the whole, fake snakes in my bed thing.
I suppose I'll just have to wait for the Twilight movie to come out in December to get my next fix.  I guess it will be me and every teenage girl in America at the theater!
Kimberly